Being a Norwex Movement Fan of the Month shows you're interested in reducing chemicals and making a real impact by creating a more sustainable environment. It also means you get a cool prize, including 200 Eco Points, and some sweet recognition!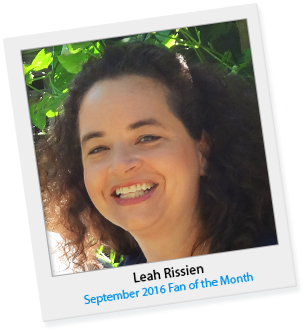 September 2016 Fan of the Month:
Leah Rissien, OH
How She Won:
By being an active member of NorwexMovement.com.
Prize:
Surprise Movement Product and Bonus Eco Points
Congrats to our latest Norwex Movement Fan of the Month, Leah Rissien, for making a real impact at NorwexMovement.com!
What she said when she found out she'd won:
Wow! I'm so excited! Thank you!
Q: What is your favorite Norwex Movement blog post so far?
A: I would have a hard time picking just ONE blog post as my favorite because they are all great! Most recently, I really liked the one about biodegradable AND edible six pack rings. I've spent many summers walking the beach, and it is truly appalling what gets washed up each morning. I hope innovative alternatives to plastic packaging such as this will become mainstream. I also really appreciated the one listing all the ways to remember reusable bags. I can't count how many times I would get to the checkout counter, only to realize that I had left my bags in the trunk of my car AGAIN! That is becoming more and more rare, thanks to the helpful tips on the Movement blog.
Q: How did you learn about the Norwex Movement website?
A: I found out about the Movement when I joined Norwex about a year ago. I signed up with the Movement last spring. Conference 2016 fired me up, so I spent a lot of time in August going back to read ALL the posts! I love the variety, the information, and the practical applications there. Every week I learn something new that I can implement in my own life. My next step will be to study the community project posts more closely. I would love to get one started in my neighborhood this fall.
Leah, thanks for being an active member of NorwexMovement.com. We appreciate all that you and other Norwex Movement members are doing to make a difference for our planet!