"Through our small, conscious choices and actions, we really can make a difference."
Jump In and Make a Difference!
Movement members everywhere are invited to join the U.S. Home Office in speaking up about the effects of harmful chemicals and helping others live more sustainably!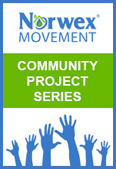 Let people know what's important!
We're spreading the word, and so can YOU! Whether it's about reducing chemicals or living more sustainably—or whatever you feel passionately about—we're united in making a difference!
We're here to help!
Amy has some very good ideas for turning your passion into positive action. Read her blogs for the inspiration and confidence you need to create your own project—or to join us in ours! (And check back often to read the latest!)
Don't forget!
As a logged in member of the NorwexMovement.com, every time you like or share a blog, you earn Eco Points that support The Washed Ashore Project. What a great way to start creating awareness!

Now take it to the next level!
If you're passionate about something, let it show! Reach out where you live, and tell us how you're making a difference with your family or in your community.
Send us your stories, photos, videos or anything you're doing to create awareness and make a difference where you live. We just might feature it right here on NorwexMovement.com!
Use these hashtags on your own social media to keep the Movement going:
#NorwexMovement

#MakingADifference

You are not logged in.