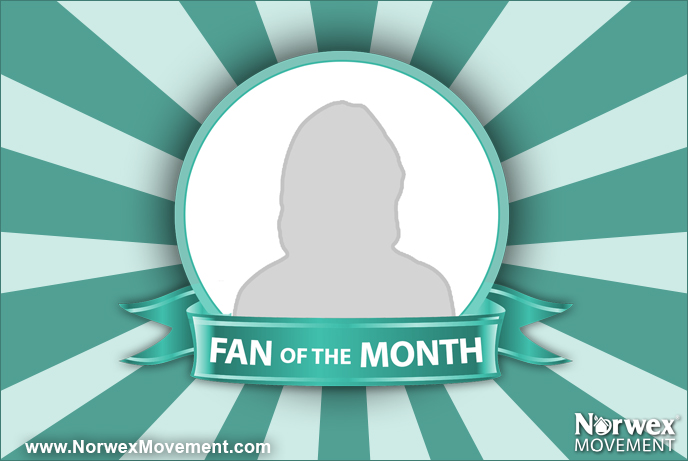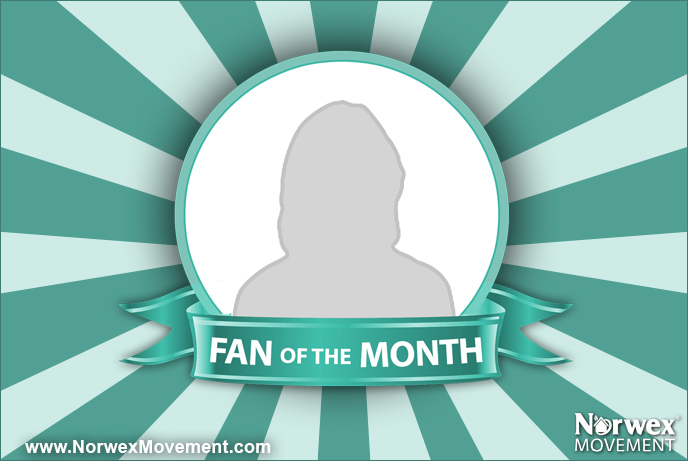 Congratulations, Melissa!
Norwex Movement members have yet another reason to visit www.NorwexMovement.com often!
Now, in addition to increasing your knowledge through our interesting bi-weekly blogs, fun tools, engaging quizzes and other apps, every time you participate in these activities and others, you'll also increase your chances of being our next Norwex Movement Fan of the Month!
What's so special about being a Norwex Movement Fan of the Month? Well, it shows you're interested in reducing chemicals and creating a more sustainable environment for one thing. You'll also receive a cool prize and garner a bit of recognition for yourself. Being a Movement Fan of the Month also gives you the opportunity to turn other Movement members on to a good blog or fun tool they may have missed.
Check out what our very first Fan of the Month, Melissa Short, had to say . . .


July 2016 Movement Fan of the Month: Melissa Short, MI
How She Won: High activity level at NorwexMovement.com.
Prize: Surprise Movement Product and Bonus Eco Points
What she said when she found out she'd won:
This is so COOL!! Thank you so much! The Norwex Movement has sooo opened up my eyes to so much that I had literally NO CLUE about! Living in the Midwest, so many people say, "Chemicals don't bother me. I don't mind chemicals." I've had this said to me over and over again. Honestly? I probably have said something along the same lines before too. 🙁
Q: What is your favorite Norwex Movement blog post so far?
A: I have two that really stand out.
One is How to Safely Dispose of Unused Prescription Medications. We are so worried about cleaning with non-toxic chemicals, feeding our families nutritious foods, getting chemicals out of our homes, reducing plastic usage, etc. BUT, I never even thought about how disposing of unused medications can affect our water supplies and even our landfills! We've had some previous septic issues at our other home and it's not a fun thing to deal with. I've never flushed meds, but knowing that the antibiotics will kill all of the good bacteria and can cause your septic to freeze, it literally SCARES me! It can be a very expensive thing to deal with and it takes a long time to get back to a healthy system after it hasn't been taken care of correctly. Learning to take your meds out of their packaging and getting it wet/mixing with cat litter, soil or used coffee grounds is something that I NEVER would have thought of doing either. By using proper disposal methods for your meds, you will save your drinking water supply, septic system and landfills from being toxic.
My other favorite is Is Your Candle Making You Sick, 5 Things to Know. I have allergies and asthma. I have been using essential oils for the last two years with a diffuser, but I still like different smells. I was having severe problems with my asthma and horrid headaches too. It turns out that the melts that I was using were causing the problems. They were contributing to sinus infections that wouldn't go away. The candles or melts that you use DO matter! When I stopped using the particular brand that I had, everything seemed to clear up and get better. After reading this article, I looked at what was in the brand I had been using and found that it had paraffin wax in it. I have found some melts that are totally soy-based and am able to melt them in my home with no awful side effects. Sharing this article was very important to me so that other people can see how little things that we don't think about really can have a big, negative impact.
Q. How did you find out about the Norwex Movement?
A: I found out about the Norwex Movement from my Red Jacket Leader, Carmen Moore. I had seen mention of it on Facebook and in the newsletters, but never really searched anything out until I saw that she had a ribbon with it at Leadership conference. I asked her what it was all about and she shared the info. When I got back from Leadership, I wanted to check it out. There is so much great information all over the blog and website. I LOVE sharing the posts on Facebook and helping to educate my friends and Customers! I know that it is not something that is well known, so Carmen and I have made it a priority and included it in the weekly posts in our team Facebook group. The Norwex Movement goes hand in hand with our products and opens up your eyes to how it all connects people to wildlife and to our planet.
Thank you all for everything that you do to educate us in so many different ways! I'm not completely ignorant to landfill issues, plastic problems, toxic chemicals, contaminated water, etc. because of the time and effort you have put into the blog. I home school, and it has opened up many discussions with my kiddos and led us to some discussions that we wouldn't otherwise have had. This is so COOL!! Thank you so much!
Melissa, thanks for reading our blogs, and sharing them with your friends and family. Thank you too for your encouragement and all that you and other Norwex Movement members are doing to walk wisely in this world. We applaud you!
Want to Be a Norwex Movement Fan of the Month?
These activities increase your chances!
Visit NorwexMovement.com often
Use the tools
Read blogs
Take a blog poll
Comment on blogs
Refer others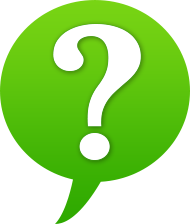 Do you have a favorite Norwex blog? Or a topic you'd like us to blog about? We'd love to hear from you! Just leave us a comment below.
Have you ever taken a Norwex Movement blog poll before?