Being a Norwex Movement Fan of the Month shows you're interested in reducing chemicals and making a real impact by creating a more sustainable environment. It also means you get a cool prize, including 200 Eco Points, and some sweet recognition!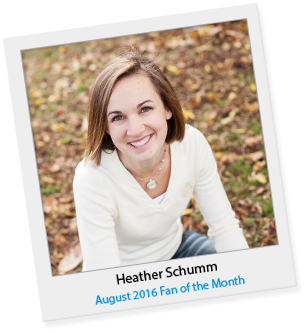 August 2016 Fan of the Month:
Heather Schumm, OH
How She Won:
By being an active member of NorwexMovement.com.
Prize:
Surprise Movement Product and Bonus Eco Points
Congrats to our latest Norwex Movement Fan of the Month, Heather Schumm, for making a real impact at NorwexMovement.com!
What she said when she found out she'd won:
Oh wow! Thank you!
Q: What is your favorite Norwex Movement blog post so far?
A: This is tough because there were three good ones recently that I loved. First, the blog about dark chocolate being good for you is awesome news for this chocolate lover! Eat 12 grams per day. Yes please!
Second, I loved finding out that Southwest upcycles their leather seats into soccer balls. How cool is that! I enjoy learning of companies who share our same mission so I can support them.
Lastly, the blog video of Amy and Brian making a random stop to pick up trash was so funny. It was a short glimpse into the fact that who Norwex is runs true through all the staff there, and I love that about this company. Brian was even wearing a suit!
Q: How did you learn about the Norwex Movement website?
A: I've been with Norwex for almost five years now, so I'm not exactly sure. 🙂 I think it was announced at a Conference a year or two ago? More and more perks get added, and it's so nice that I can get an email notification when new items are posted!
Heather, thanks for being an active member of NorwexMovement.com. We appreciate all that you and other Norwex Movement members are doing to make a difference for our planet!