When you think about all the perils that can endanger animals in the wild, "shrinking habitat" may not immediately come to mind. But a phenomenon known as habitat fragmentation is seriously impacting animal populations worldwide.
Habitat fragmentation occurs when manmade structures like roads, railroads, canals, even electric power lines and pipelines, cut through animals' territories, dividing and penetrating them, effectively causing animals to compete for resources in smaller and smaller areas.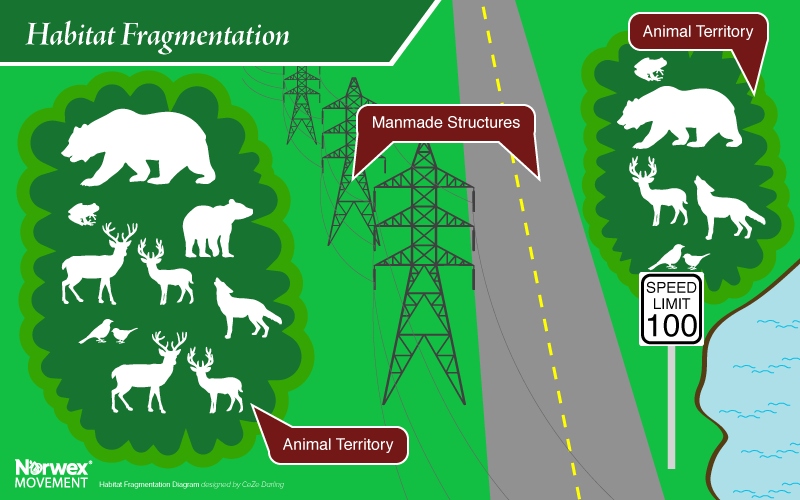 Habitat fragmentation negatively affects wildlife in at least four ways:
By decreasing the size and quality of the animals' habitat
By increasing mortality rates caused by vehicles (aka "road kill")
By preventing access to resources like food and water
By subdividing (or fragmenting) wildlife populations into smaller, more vulnerable segments
In the U.S. alone, habitat fragmentation has significantly reduced populations of animals like the white-tailed deer, Florida panther, black bear, forest birds, small mammals, reptiles and even insects.
But there is good news. Many countries have invested in wildlife crossings that allow animals to roam freely over or under roads, helping them to avoid injury and maintain full access to important resources.
Europe leads the way in these efforts, with the world's first animal bridge built in France in the 1950s. Today, The Netherlands boasts the world's longest wildlife overpass, the Natuurbrug Zanderij Crailoo. It crosses over a rail line, a river, a business park and a sports complex.
Christmas Island, Australia, is famous for its annual migration of 50 million red crabs. More than 20 kilometers of plastic barriers and 31 underpasses, plus a five-meter-high crab bridge helps ensure the crustaceans' safe passage from the rainforest to the Indian Ocean and back again.
Banff National Park in Alberta Canada has 44 wildlife crossing structures, the most anywhere. Together, these 38 underpasses and 6 overpasses have reduced vehicle-wildlife collisions by more than 80% and helped ensure more than 200,000 safe animal crossings.
How many different kinds of animals can you spot getting to the other side?