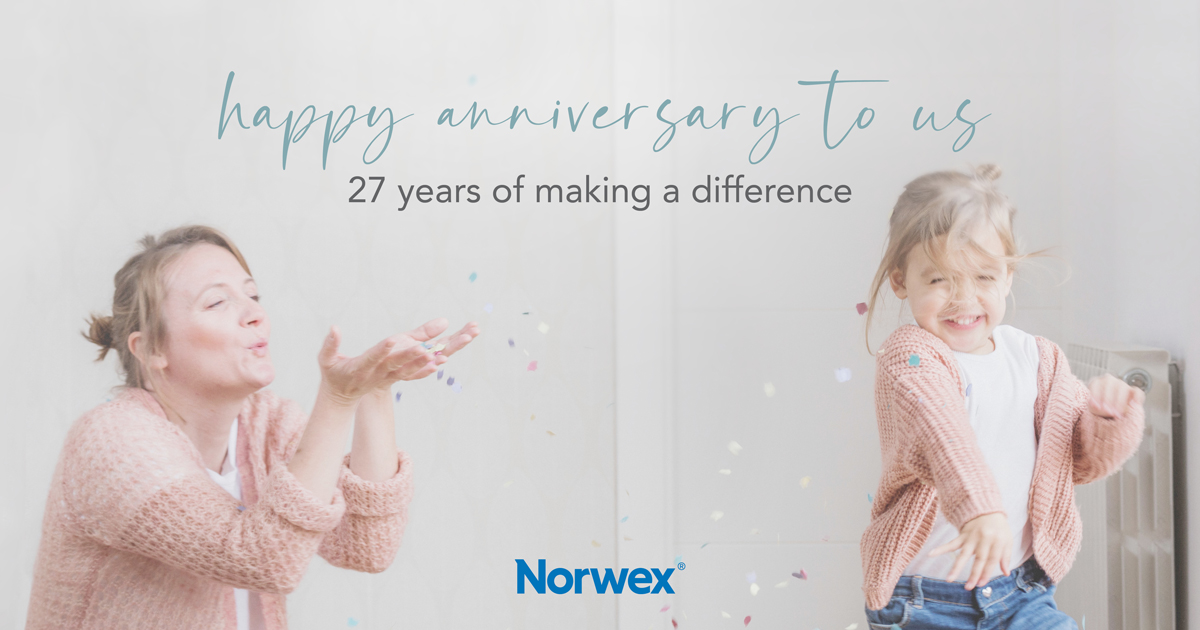 Radically reducing chemicals and making the world a little safer
I'm so excited to wish Norwex® a big "Happy anniversary!" After beginning in Norway 27 years ago this month, Norwex now has a long, proud history of radically reducing chemicals in homes all over the world. Our exceptional microfiber, household and personal care products are drastically reducing not only chemicals but also the waste that chokes our planet, so that families everywhere can live cleaner and safer.
You know, it really is our collective, conscious choices, both big and small, that together can make an impact for ourselves and our planet. So in honor of this anniversary, here's a reminder of a few more ways that Norwex, with the help of our amazing Consultants and Customers, is walking the talk of corporate responsibility.
• Recycled microfiber yarn—Norwex was the first company to offer microfiber made from recycled PET plastic bottles to help solve the decades-old problem of plastic pollution. Norwex's latest microfiber innovations include products made from up to 91% recycled microfiber yarn. In fact, to date our products have meant that over 12 million bottles have been kept out of landfills.
• Biobased—Many of our plant- or enzyme-based household cleaning products display the USDA Certified Biobased Product logo indicating a product that is derived from plants and other renewable agriculture, marine and forestry materials. Not only does this reduce our reliance on petroleum, it also increases the use of renewable agricultural resources and contributed to the reduction of adverse environmental and health impacts.
• Norwex Foundation for a Brighter Future—Everyone at Norwex knows that generosity ultimately results in a better world. Our Consultants give back to their communities in part through the Norwex Foundation for a Brighter Future. From feeding the hungry to providing families in need with medical care, Consultant-nominated charities are making a difference in the communities they serve. Norwex gives back corporately too, through donations to fight breast cancer, create awareness about autism, support front-line healthcare workers and even plant trees. Where there's a need, Norwex is there.
• OceanBound—Many of our 12-ounce household products are now packaged in OceanBound Plastic, which is created from existing plastic waste that's at risk of entering the world's oceans. This is plastic that for whatever reason has fallen outside normal collection processes and is in danger of becoming a part of the 9 million tons of discarded plastic that is estimated to flow into our oceans every year.
• Washed Ashore—Norwex supports The Washed Ashore Project, a community-based non-profit that helps create awareness about marine debris and plastic pollution. Washed Ashore is supported by thousands of volunteers annually, who help turn beach trash into beautiful art. Their goal is to educate a global audience about plastic pollution in the ocean and waterways and spark positive changes in consumer habits.
• Seabins—Seabins are an amazing invention that help keep "debris problem areas" in water clean by collecting surface rubbish and oil near marinas, docks, yacht clubs and commercial ports. In 2019, Norwex was honored to place 10 of these trash-collecting devices around the island of Malta, where our Global Home Office is located. Soon we'll be placing an additional 10 Seabins spanning every continent where we have sales companies. With 20 Seabins in the water, we estimate that over 20 tons of debris will be removed from the Earth's oceans each year.
And an especially exuberant shoutout to all of our fabulous Norwex Consultants, who are out there, day in and day out, sharing Norwex with their friends, families and Customers. It's really you who make it all happen through your passion for keeping homes safer. Happy anniversary to you all! I'm excited to see what the next 27 years has in store for us as we're truly just getting started and continually innovate for even better solutions to reduce chemicals and waste.
If you'd like to learn more about Norwex and possibly help others radically reduce chemicals in their homes, we'd love to have you join us today. And be sure to let us know in the comments below how you're making a difference right now by reducing chemicals and/or waste in your own home and the world around you!
Resources:
Movement Blog: Great news! Norwex® is adding 10 more Seabins to help clean the oceans!
Norwex Blog: Biobased: What It Means and Why It's Important
Norwex Foundation: Our Programs
Movement Blog: Cleaning Up Our Oceans, One Plastic Bottle at a Time
Movement Blog: How Do They DO That? Our Journey to Washed Ashore
Do you enjoy making a difference in the world around you?