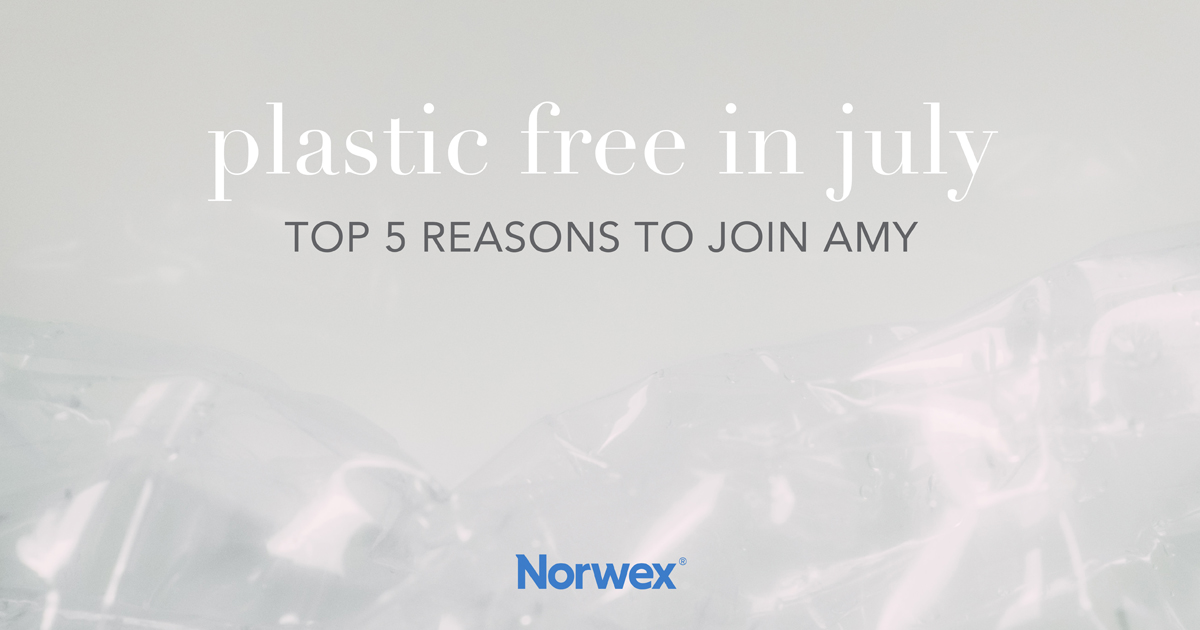 Readers, I'm so excited to share with you that just like last year, I'll be attempting to go completely plastic-free the entire month of July!
As you may recall, I had moderate success in 2020 (but I know I can do better).
And it would help me so much to know you were in it with me!

Here are some of my top reasons for wanting to go plastic-free, not just in July but every single day:
1. As much as 80% of all litter in our oceans is made of plastic.
2. An estimated 9 million tons of plastic per year ends up in the ocean, wreaking havoc on wildlife, fisheries and tourism.
3. Plastic pollution costs the lives of 1 million seabirds and 100,000 marine mammals per year.
4. Fish eat plastic, and we eat the fish.
5. As many as 51 trillion microplastic particles—500 times more than the stars in our galaxy—litter our oceans and seas.
Are you ready to join me? Let's take the Plastic Free Challenge together and report back on our wins soon!
Movement Readers provide great ideas for reducing plastic!
Several of us took the Challenge last year, and many of you wrote in with some really good ideas for reducing plastic. I'm sharing them here as a reminder and to help us all be thinking of ways we can reduce the burden of plastic on our planet:
"I keep my reusable bags in my car trunk . . . they are ALWAYS ready to just be pulled out at any time! I also have a small, compact foldable bag that I keep in my car that can be thrown into my purse!"
—Carolyn Petersen
"I use a reusable water bottle, and I always carry my Norwex straws with me. When I ask for water at a restaurant I always say, 'Water no straw, please.' I also use beeswax wraps along with silicone lids."
—Sharon
"I have my own ongoing personal challenge of not having more than one kitchen-size bag of trash every two weeks for the landfill. I have been able to reach that goal every week now for almost a year."
—Ann Savoy
"We have hard well water that we do not drink, so we go through A LOT of bottled water. About two months ago we purchased a reverse osmosis system to go under our kitchen sink and our water tastes amazing! No more bottles of water for us! I have glass to-go bottles that we refill daily."
—Tiffany Stapleford
"I live full time in an RV. We have gone plastic-free, except some food items that come pre-packed . . . like cheeses. I wish there was a way to go completely plastic-free in food packaging!"
—Alysia Bolin
"I love nothing more than my stainless cups, straws and bottles!! I am slowly making my haven safer and safer."
—Tracie Armstrong
"That mounting plastic bag pile always frustrated me. Now I'm sure to bring my reusable bags to the store, farmers market, library, etc. No more bag mountain under the cabinet! Setting the example for the kiddos to continue the impact—they remind me if I forget our bag in the car! We've always used reusable water bottles too."
—Corrie Selby
"I go through my recycling at home and make sure everything is cleaned out properly, making sure it is a recyclable item, and making sure my local recycling facility will accept everything that's in there. I always carry my stainless steel straws with me [and] a small variety of containers that are made out of silicone or stainless steel. I use reusable grocery bags instead of plastic, and I never buy plastic bottles—always reusable bottles."
—Amy Labye
"I may not be able to control the manufacturing [of plastic] but I can control (or heavily influence) my consumption and waste. I would love to see this challenge highlighted more. It . . . can change mindsets and have a cultural impact. Thanks for sharing!"
—Shirley Loomis
How about you? Will you join me in going plastic-free this July? And please share your life hacks for reducing plastic in your world. Other readers would love to put your wisdom into practice!
Resources:
Will you go plastic-free with Amy in July?