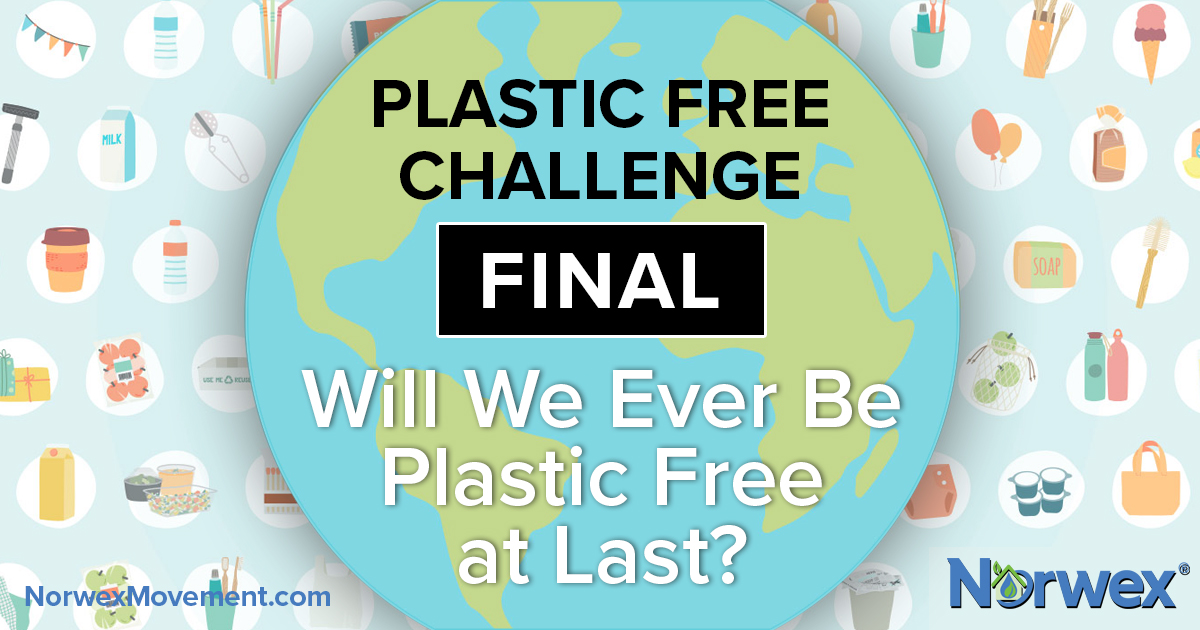 Plastic Free Challenge Conclusion
Greetings, Movement members, I'm fresh from our 2020 Norwex National Conference—where we just launched our exciting new fall products virtually from the Dallas Home Office. I am so thrilled about how some of these products will help reduce plastic, not just in our homes but in our world. As this video shows, Norwex is passionate about our planet—which is why we put sustainability at the forefront of all we do.
Protecting our world is why I am so excited about new Norwex products like our Forever Glass Bottles, designed specifically to help families replace plastic as they clean without harmful chemicals. And I love how our new Lysere™ Probiotic Whitening Toothpaste not only supports your all-important oral microbiome, but also comes in a 100% biodegradable sugarcane tube. Most toothpaste tubes are not even recyclable, let alone biodegradable!
But first things first. I know you're just dying to hear how my Plastic Free Challenge went.

How'd I Do?
Before I divulge the successes and failures of my plastic-free July, I want to give a big shout out to everyone who joined me on this journey, as well as to the Plastic Free Foundation itself, which sponsors the Challenge each year. I'm really proud of how, working together, we're making such a big difference for our homes and our planet.
Okay, like many of you fellow Challenge-takers probably experienced, I too had a few victories and some "could've done betters." Even though I consider myself to be fairly eco-savvy, come to find out, plastic isn't always easy to say "no" to.
If you remember, I'd committed to going completely plastic-free for the entire month of July and to avoid at least the following:
Plastic bags, bottles, straws and coffee cups
Single-use plastic packaging
First, the Highs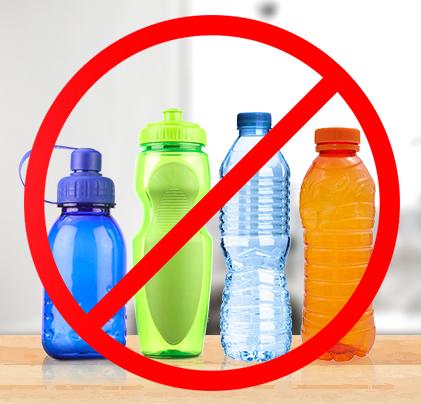 So I'm proud to say I used no plastic beverage bottles, straws or coffee cups the whole month! (Full disclosure, I tend to avoid those anyway, so that wasn't such a big deal for me.) But I also reminded my kids about their commitment to shun plastic straws. Good news: Both of them reported consistently being able to say "no thanks" to plastic straws this month. Score one for the home team!
As for plastic bags, I'm also pretty good about remembering to bring my reusable bags with me to the grocery store, but not so great when I have to dart in somewhere for something quick. I'm not sure why, but it just doesn't always occur to me to bring my own bag to the drug store, for example.
I did better this month though, thanks to the mental commitment I'd made to go plastic-free. I'm happy to tell you that I brought my own reusable bag with me into both a drug store as well as a restaurant, where I grabbed take-out. Admittedly, I felt kind of bad asking the restaurant cashier to unload the food from the plastic bag it was in and to reload it into my bag, but at least she seemed interested when I told her I was trying to reduce plastic. So who knows; maybe I planted a plastic-free seed!
Now for the Lows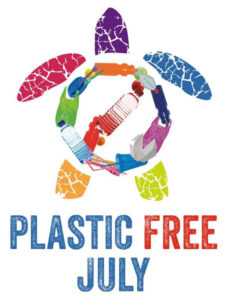 Plastic packaging, oh dear. What can I say? Yes, we all try to avoid it, but it seems to be everywhere, doesn't it? Each time I got home from my errands, so proud of myself for remembering my reusable bags, what was lurking as I unloaded those bags? You guessed it, plastic packaging. And for so many things: the yogurt cups, the butter tub, the razors we use, even the wrapper on a box of tea bags. I did remember my reusable produce bags, so at least my fresh veggies weren't packaged in plastic. And of course, I will recycle each butter tub and yogurt container instead of just throwing them away. (But as we know, recycling isn't the best solution.)
So, there you have it. I guess I'd score myself at a B or B- in my ability to purge plastic. While I definitely made some strides, there's a long way to go before I'd consider myself to truly plastic-free.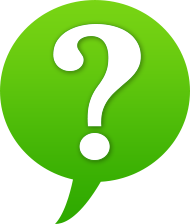 I encourage you to learn more about all of our new Norwex products, but meanwhile can we stand firm in our commitment to avoid plastic—especially the single-use plastic that so pollutes our landfills and waterways? If you took the Plastic-Free Challenge, please share your own highs and lows with other readers below.
Resources:
I took the Plastic Free Challenge!