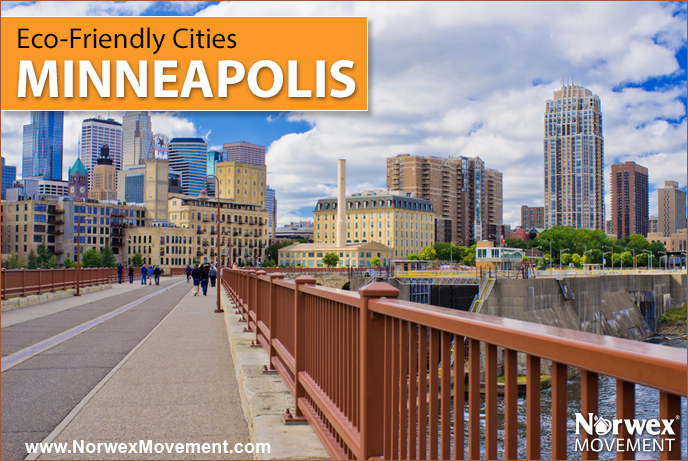 Green Buildings, Green Transportation—Even the Pizza is Green!
With our 2016 Norwex U.S. National Convention coming up soon in Minneapolis, what a great time to go exploring through one of the most eco-friendly cities in the country! Known affectionately to locals and visitors alike as The City Of Lakes, The Mill City, MPLS, Pickleville, Lil' Valhalla, PrinceTown, Miniature-opolis, The Mini Apple and more, Minneapolis' name originates from the Sioux word "mini" and the Greek word "polis," together meaning "city of waters." But no matter what you call it, Minneapolis has a lot to offer!
Minneapolis/St. Paul's flat landscape and well-developed bike infrastructure make it one of the nation's best Bicycle Friendly Communities, despite the frigid winters. In fact, the Twin Cities offer a much-touted bike-sharing program along with 92 miles of on-street bikeways, 85 miles of off-street paths and upwards of 1500 bikes. Each day, an average of 10,000 cyclists make use of Minneapolis' bike lanes.
The Grand Rounds National Scenic Byway links a series of parks throughout Minneapolis in more than 50 miles of urban byway. Including roadways for cars, as well as bike and pedestrian paths, it encompasses seven major districts and public park areas adjoining many of the 20 lakes within the city limits.
Minneapolis' park system is second to none with nearly 200 parks covering 5,000 acres. Best of all, more than 90% of the city's population lives within 10 minutes of a public park.
Minneapolis is home to the United States' oldest public native plant garden, The Eloise Butler Wildflower Garden and Bird Sanctuary, with over 500 native plant species within its 15 acres of wetland, woodland and prairie habitats. In addition, more than 130 bird species either reside within the Garden or travel through it during the year.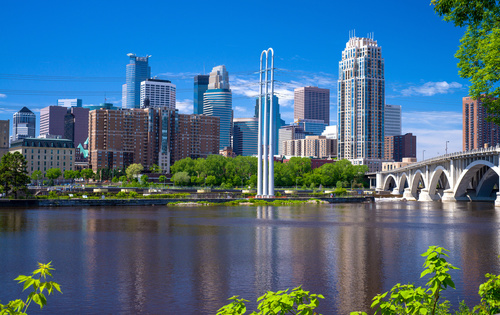 Downtown Minneapolis
There's more we could say about Minneapolis (like did you know it's one of the nation's "techiest" cities, or the theater scene is superb), but why not visit it yourself?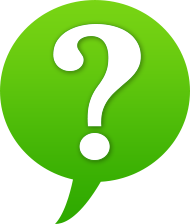 And if you have ever been there, we'd love to know what you thought! Just drop us a line in the comment box below.
Resources:
Alluvian: Most Eco-Friendly Cities
Travel & Leisure: Counting Down the 20 Greenest Cities in America
Bicycle Friendly America: Attributes of a Bicycle Friendly Community [PDF]
CityLab: This Really Might Be the Nicest Bike-Share System in the United States
Explore Minnesota: Grand Rounds Scenic Byway Showcases Minneapolis
Explore Minnesota: Eloise Butler Wildflower Garden and Bird Sanctuary
U.S. Green Building Council: LEED Certification
Minneapolis Gov: LEED Building Policy
Skyway My Way: Downtown Minneapolis Skyway Guide
Target Field Minneapolis: The Greenest Ballpark in America
Mall of America: Green Initiatives
Movoto: 50 Things You Probably Didn't Know About Minneapolis
Galactic Pizza: Vision of the Future
Movoto: 25 Things People From Minneapolis Have To Explain To Out-Of-Towners