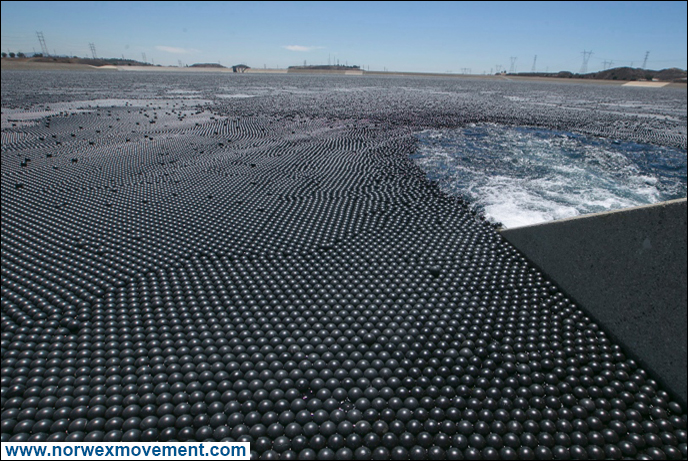 Protecting Our Resources
With the drought crisis that California is currently facing, a novel approach to maintaining water quality and water conservation has recently been implemented by the city of Los Angeles—filling the city's water reservoir with a bunch of plastic balls.
Not just any plastic balls, however. These black, plastic balls were designed to protect the water from algae formation and increased evaporation in a time when water use has been significantly restricted and natural water resources have become a precious commodity.
How Do They Work?
The material carbon black is added to the plastic balls to give them their dark color and the ability to absorb UV rays. The plastic balls then float at the surface of the reservoir, forming a barrier that prevents harmful chemical reactions between sunlight and chlorine. One such chemical reaction is the creation of bromate, a suspected human carcinogen that has been linked to several health issues, including cancer.
Not only do these plastic balls help to reduce bromate levels, but by minimizing the amount of sunlight that reaches the water's surface, it keeps the water cooler and reduces evaporation. According to one Care2 report, the shade from the plastic balls "reduces evaporation by 85 – 90 percent, a savings of nearly 300 million gallons of water each year."
In case you're wondering about the possibility of these plastic balls releasing harmful chemicals into the water reserves, the Los Angeles Department of Water and Power claims they are considered safe because the balls are made from high-density polyethylene, a type of plastic that is "approved to come into contact with drinking water."
Do you have any thoughts about this water-conserving action? Please feel free to share your thoughts in the comments section below!
Resources:
Discovery News: Millions of 'Shade Balls' to Prevent Evaporation in Calif. Reservoirs
CNBC: 'Shade balls' protect LA water supply during drought
Care2: How Millions of Tiny Plastic Balls Are Protecting Los Angeles Drinking Water
LA Times: Millions of shade balls helping protect California's precious water