Father's Day is June 21, which made me think about how the most meaningful gifts usually come from the heart and rarely a store—at least in my experience. So to honor Dad in a special way, I wanted to share some ideas the whole family can help with to make his day even more memorable.
1. It can be difficult to think of gift ideas for fathers, but just about every dad we know enjoys a good meal. Why not start his day off right with a homecooked breakfast that the whole family helps prepare? Younger kids can wash the grapes or berries, while older ones can beat the eggs and butter the toast.
2. Speaking of food, it's easy to make Dad his own personalized snack jar. Simply wash an empty spaghetti sauce jar or any empty glass jar and fill it with his favorite candy or nuts. Let the kids create the label using paper, crayons, stickers and glue.
3. And while you have the craft items out, have each child make their own Father's Day card. We love these fun DIY card ideas from Crafty Morning. Or check out this origami Father's Day card idea older children can create. And save a little money by letting them make the gift wrap, or to reduce waste, opt for a reusable gift bag if you have one handy.
4. Help the kids create a picture frame from popsicle sticks or cardboard and let them decorate it using crayons, paint, stickers—even seashells from your last vacation. Be sure you take a picture of the day's celebrations to frame as a reminder of the fun. And speaking of cardboard, there are so many great ways to upcycle a cardboard box, like these from DIY and Crafts. Check out #19 for how to create Dad's initial from cardboard.
5. Or consider making Pops a gift basket full of things he loves. You can find a small crate or bucket and fill it with whatever he's into, like spices, rubs and grilling tools; golf balls and tees; candy and popcorn for movie night or gardening gloves and seeds or plants. For a special touch, add a coupon offering to help Dad with the next BBQ, caddy a golf game or choose the next movie.
6. And if it's gardening he likes, offer to help him plant a garden. Why not share with him the joys of organic gardening. Gardening is a gift that definitely keeps on giving, as everyone can enjoy the bounty all summer long.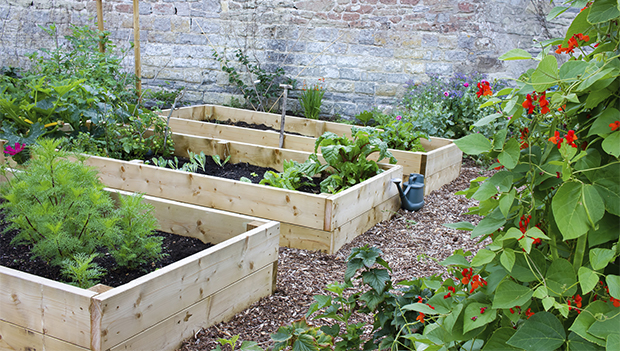 7. And what about a new tree? Maybe your yard has a spot that would be perfect. If so, find out which trees would work best in your area and plant one in Dad's honor. That's a gift that grows in meaning year after year.
8. Or maybe Dad would appreciate an experience. You could hike or bike at his favorite place, play his favorite games or even grab the binoculars and enjoy a family bird-watching expedition in your own neighborhood. It might be fun to see what kinds of birds your flock can discover!