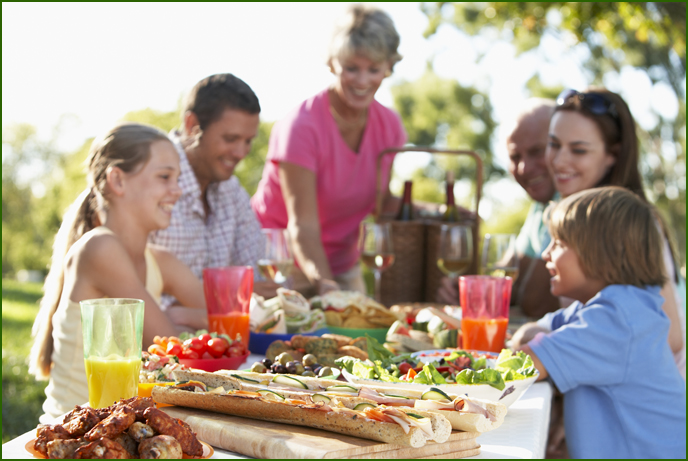 3 Spectacular Tips for a Greener Summer Celebration
Canada Day (July 1st) and Independence Day (July 4th) are both right around the corner and it's a perfect time for celebrating with our friends and families. Some types of celebration, however, may be not-so-great for the environment.
Here are a few tips for making your summer celebration both fun AND more eco-friendly!
1. Grilling Green
The sizzling sounds and delicious scent of burgers and hot dogs cooking on your grill is one of the true signs that July 4th is here.
Unfortunately, the traditional method for grilling food can be toxic to the environment, and even to your health.
While charcoal grilling is usually the preferred method for outdoor cooking, studies have shown that charcoal can expend up to three times more greenhouse gas than a propane or natural gas grill. In addition, the use of lighter fluids that are petroleum-based can significantly increase carbon emissions.
A great alternative is the use of electric or natural gas grills. Electric grills can release up to 99% less carbon monoxide and 91% less carbon dioxide than traditional charcoal grilling, while natural gas grills leave a lower carbon footprint than propane grills, serving as a cleaner grilling method.
2. Ditch The the Disposables
By the end of many summer barbecues, not only are there a lot of really full people, there are also usually several really full garbage bags. One of the greenest things you can do this 4th of July is provide reusable plates, cups and silverware to your guests, instead of allowing mounds of paper and plastic products to pile up.
If disposable products are a necessity, try using unbleached recycled paper products or even disposable bamboo dinnerware.
Also, instead of purchasing prepackaged condiments like salsa, guacamole or cheese dip, try to make your own version. This helps cut down on packaging waste, while you and your guests enjoy fresher, tastier and preservative-free food.
3. See a Public Fireworks Show
Nothing represents July 4th better than the magic of a night sky full of brightly colored explosions.
But unfortunately, fireworks can be a serious pollutant and contain chemicals such as potassium perchlorate and barium nitrate that can harm the environment. These environmental hazards can pose significant health risks as well.
Though it's tempting to purchase your own fireworks and set them off in your backyard, a fantastic way to help reduce chemical pollution is by catching a public fireworks event.
This will save you some money, help protect the environment from harmful chemicals, and can even bring you closer to your community as you share the fun together.
Got any special summer holiday celebration plans? Please feel free to share with us in the comment section below!
Resources:
Treehugger – How to Go Green Barbecues
Just Energy – 4th of July Fireworks Alternatives