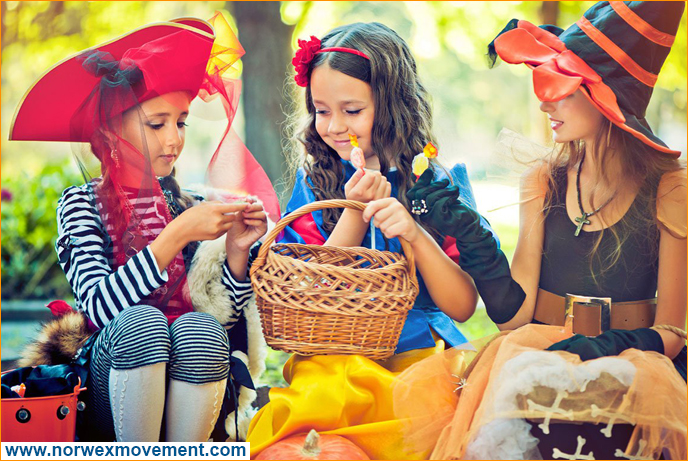 Halloween is all about being scary, but when it comes to our children's safety we don't want any frights. Below are some things to keep in mind during this season of spook!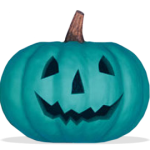 Teal Pumpkins
Worried about letting a child with a food allergy go trick-or-treating? Look for homes displaying a teal-painted pumpkin to take them to.
The Teal Pumpkin Project was started to promote the safety, inclusion and respect of people managing food allergies. A teal-painted pumpkin outside a home means that the resident will give non-edible treats in lieu of candy.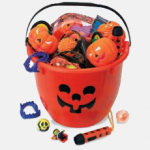 Natural Treats
Speaking of candy, it may be tempting to use it to "treat" the little goblins who come knocking at your door. After all, it's easy to just grab several bags of prepackaged candy at the store and give individual pieces or packets to each child. However, the packaging waste alone, not to mention the health effects of too much sugar and/or artificial sweeteners, should be taken into consideration.
If time permits, try making your own healthier Halloween treats or offer non-food items, such as coloring books or other fun toys.
Hint for parents: Give your children a nutritious meal before they head out for trick-or-treating, so they're less tempted to gobble down any sugary snacks right away.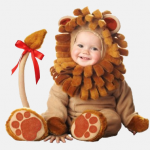 Costume Safety
From princess to pirate, the right costume is critical. But no matter what your child decides on, you want to avoid a costume-related accident or injury, especially knowing that there's typically a spike in the number of fires each Halloween.
Commercially sold Halloween costumes are required to meet federal flammability standards, but that doesn't mean they won't burn. Check the costume's label or packaging to find out what it's made of as well as information about flammability.
According to the Consumer Product Safety Commission, costumes made from synthetic fibers like nylon and polyester are less likely to ignite, will resist burning and will extinguish more quickly if they do ignite. Manufacturers sometimes promote this by putting a "flame resistant" label on the package. The warning label to keep a costume away from flames is important advice that is provided by the manufacturer.
Opt for well-fitting costumes that are not too big and billowy, and beware of ribbons, belts and embellishments like tails, wigs or wings that could easily float too near a source of fire.
Hint for homeowners: Instead of using a burning candle in your jack-o-lantern, try a battery-operated LED light or glow stick instead.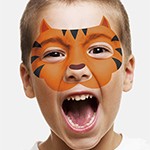 Face Paint
A 2009 report from Campaign for Safe Cosmetics revealed that some children's face paints contained such toxic heavy metals as lead, cobalt, nickel and chromium—all known to be detrimental to human health. And face paints are used more often than just on Halloween, like carnivals, birthday parties, etc., which amps up the risk even further. If your child's costume simply won't be complete without face makeup, consider creating your own natural face paint. Several recipes like this one can be found online.
Do you have more tips for Halloween safety? Please feel free to share them in the comment section below!
Resources:
CNN: Teal pumpkins to make Halloween safe for kids with food allergies
FARE Blog: The Teal Pumpkin Project for an Allergy-Friendly Halloween
American Academy of Pediatrics: Halloween Safety Tips
On Safety: Halloween Costumes – What to Look For
US Fire Administration: The Seasonal Nature of Fires (file download)
Listotic Blog: 64 Non-Candy Halloween Snack Ideas
Campaign for Safe Cosmetics: Halloween Face Paint Report (file download)
Sierra: Nontoxic Halloween Face Paint