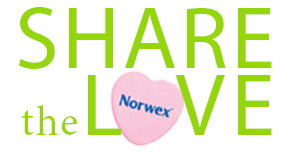 During the month of February, Norwex is sharing the love! One of the ways we are doing this is through spreading awareness of the dangers of chemicals and providing some ways we can reduce their use in our lives. At Norwex, we know that the more we increase awareness, the more we can improve quality of life.
As we approach Valentine's Day, I wanted to bring up the topic of food dyes. This subject is very close to my heart because of the widespread usage of these additives in North America. I was surprised to learn how something as seemingly innocent as colored heart candies can contain harmful chemicals. I learned a lot, and I hope you do, too.
Food Dyes
Commonly used food dyes, such as Yellow 5, Red 40, and six others, are made from petroleum and pose a "rainbow of risks." Those risks include hyperactivity in children, cancer (in animal studies) and allergic reactions. In 2008, because of the problem of hyperactivity, the Center for Science in the Public Interest petitioned the Food and Drug Administration to ban the use of these dyes. The British government and European Union have taken actions that are virtually ending the use of dyes throughout Europe.
Here are some educational websites on Food Dye Red #40:
Healthy Alternatives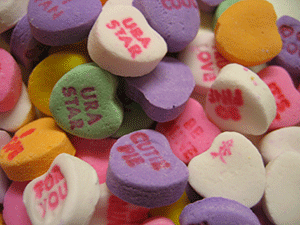 Going into Valentine's Day, I thought I would share with you the ingredients in the common conversation candy hearts that are sold this time of year.
Conversation Candy Heart Ingredients:
Sugar, Corn Syrup, Corn Starch, Gelatin, Modified Food Starch, Natural and Artificial Flavors, Vegetable Gums (Gum Aracbic & Xanthan) Artificial Colors (FDC Red #3, Red #40, Yellow #5, Yellow #6, Blue #1)
As you can see, the artificial coloring of Red #40 and Yellow #5 are used to make this popular candy. Before you buy this candy or give it to your children, you may want to try out this homemade recipe, using the DIY food coloring recipe instead of food coloring. I hope you enjoy.
DIY Food Coloring: https://fromscratchclub.wordpress.com/2011/12/13/from-scratch-holidays-diy-natural-food-coloring/
DIY Conversation Hearts Recipe: https://fromscratchclub.wordpress.com/2012/02/07/be-mine-diy-conversation-hearts/
Please let us know your favorite healthy Valentine's Day treat!
Happy Valentine's Day,
Amy
References: http://www.cspinet.org/fooddyes/