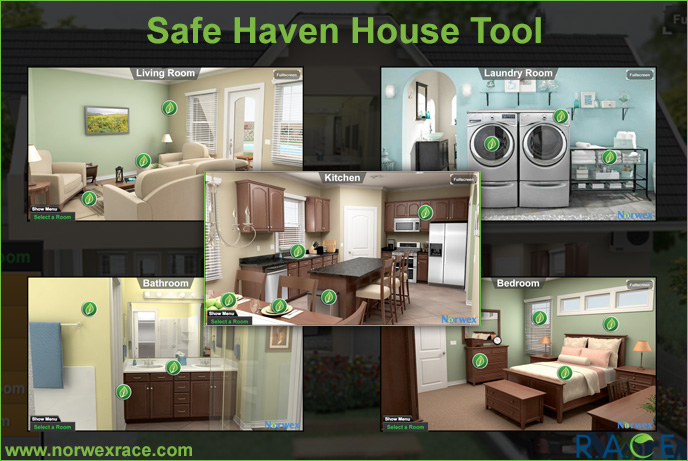 Introducing the Safe Haven House
You may not realize it, but there are countless toxic chemicals in your home.
You can find them in everything from the cleaning products you use every day to the dust particles on your windowsill.
According to a study by the Environmental Working Group (EWG), 53 percent of cleaning products under review contained lung-injuring ingredients. Formaldehyde and chloroform, two well-known carcinogens, were also found in several cleaners.
As more and more toxic chemicals are introduced into our homes and environment, the level of toxins stored in our bodies has risen significantly, resulting in bioaccumulation. Bioaccumulation occurs when your body absorbs toxic substances at a greater rate than you can expel them, and it's dangerous because these contaminants may have damaging effects to your health and the health of your family.
To help you learn how to reduce the amount of harmful chemicals in your home, we have created a Safe Haven tool on our website that can help you discover new ways to keep your home free of unhealthy contaminants.
The Safe Haven tool is fun, informative and easy to use! Take a tour through the house by simply clicking on a room from the menu on the bottom left corner, and it will take you to that room for a closer inspection of where harmful substances are typically found around a standard home. By clicking on the green leaf icons, you can view a brief synopsis of a particular problem area and learn solutions to help keep your family safe from these toxic chemicals.
So check out our new website and try the Safe Haven tool today! You'll quickly find solutions for making your home a safer haven!
Have you tried the new Safe Haven tool yet? Please feel free to share your experiences in the comment section below – we'd love to hear from you!
Resources:
EWG: Household Cleaner Ratings and Ingredients
Best of Mother Earth: Toxic Household Chemical Facts and Statistics
USGS: Bioaccumulation