Have you ever been fooled by a bowl of plastic fruit? The apples and bananas can look so delicious, it's easy to be duped into thinking they're the real thing.
Fortunately for us humans, the food on our plates usually is real. And even if it weren't, we could quickly feel the difference before we ever took a bite.
But sadly for turtles and other sea life, it's a completely different story. Their "plates" are becoming more and more crowded with harmful, plastic, fake "food" that's choking, strangling and even killing them.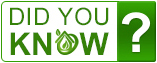 Currently, 32% of all plastic packaging is never collected—instead, it eventually finds its way into natural ecosystems like streams, rivers and oceans.