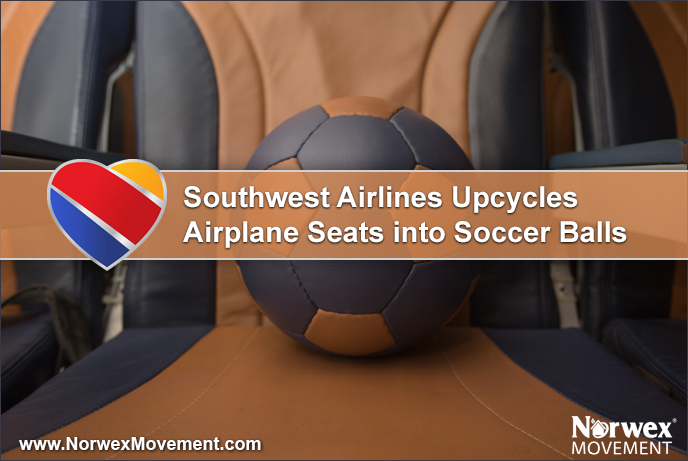 Project LUV Seat
Over the last few years, Southwest Airlines has replaced roughly 80,000 leather seats in about 450 of their jet planes.
Southwest replaced the old seats with lighter and more durable faux leather seats, leaving the equivalent of about 32 football fields of used leather, while each plane's weight was reduced by more than 600 pounds, allowing them to save on fuel.
This leftover material inspired the company to begin Project LUV Seat, which allows them to upcycle that old seat leather into eco-friendly soccer balls and shoes for kids in Africa, and many other items.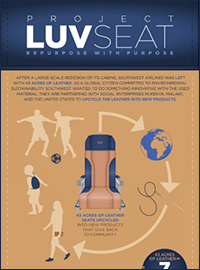 Courtesy of Southwest Airlines – Click to view
The project not only allows them to convert waste materials into new products, but it also provides jobs and skills training for disadvantaged people in Africa as well as the United States.
For Project LUV Seat, Southwest Airlines collaborated with Alive & Kicking—the training program for young adults who have created over 1,000 soccer balls to support education programs designed to increase awareness about HIV/AIDS and malaria prevention.
Southwest has also teamed up with a Portland, Oregon-based upcycling company called Looptworks that has made stylish handbags, backpacks and toiletry kits out of the leftover leather, with the help of disabled workers.
Not only is Project LUV Seat able to help Southwest upcycle their old leather seats, but it has given Looptworks the opportunity to spread its message of upcycling and reducing waste to a much wider audience.
Scott Hamlin, co-founder of Looptworks, stated, "Each Southwest bag saves up to 4,000 gallons of water and reduces carbon emissions by up to 70 percent."
So far, Southwest Airlines has been able to upcycle only about 20 percent of its seat leather, but they are interested in replicating the project in other parts of the world like Latin America and the Caribbean as the airline expands in those areas over the next few years.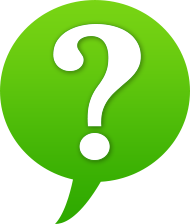 What do you think about Project LUV Seat? Please feel free to share your thoughts in the comment section below—we'd love to hear from you!
Resources:
Southwest Airlines: Project LuvSeat
Dallas Morning News: Southwest 'upcycles' old airplane seat leather into bags, balls, shoes
Michael W Travels: Airplane Seats Transformed For Good Cause…
Skift: Southwest Turns Discarded Leather Seats Into Soccer Balls