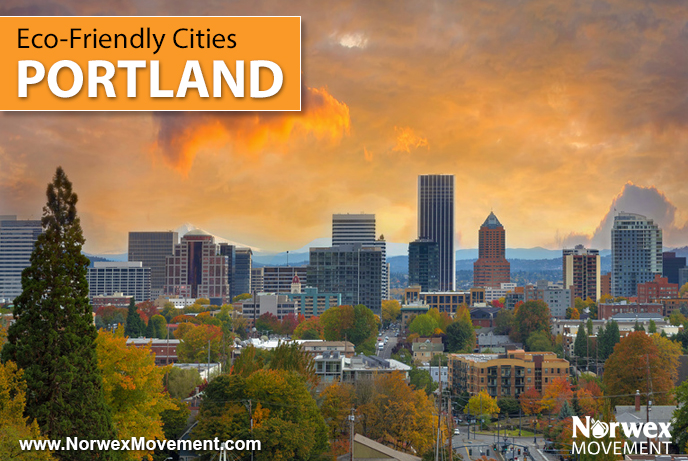 Eco-Friendly Cities: Portland
Ahhh, Portland. If just thinking about the Oregon city conjures up images of a hip culture brimming with great music and a laid-back attitude, delicious coffee available on most corners, lush, green spaces everywhere you look, along with plenty of rain . . . you'd be right. One of the most eco-friendly cities in the world, Portland is also a mecca for like-minded people who love and care for the planet, especially when it comes to getting around. Here's why:
Portland offers a very comprehensive transportation system, including commuter rail, light rail, buses and streetcar lines—as well as pedestrian and bike paths. This focus on mass transit helps reduce the number of individual cars on the road, keeping the air cleaner by reducing carbon emissions.
Portland's earth-friendly approach to transportation is historical. In 1973, the city created its first bicycle master plan. By 1978 it had converted a freeway into a riverfront park, and in 1986 it opted to build a light rail instead of a highway. Portland was also among the first U.S. cities to introduce modern streetcars, in 2001. Today, transportation plans include a high-speed rail system linking the city to Eugene, Seattle and Vancouver.
Portland is the bicycle capital of the United States, and many visitors choose to explore the city this way. With 319 miles of area bikeways and plenty of bike events, Portland's bike-friendly attitude is an important part of its culture.
Portland plans to launch the largest "smart" bike share program in the country later this year with 1,000 bicycles available for a small fee. What makes them smart? All of the communications and locking technology will be contained on the bikes themselves, so it will be easier to find, reserve and park a bike.
Named a "Platinum" Bicycle Friendly Community (BFC) by the League of American Bicyclists, Portland was also listed as Bicycling magazine's #1 bike-friendly city for several years running.
Portland boasts the highest percentage of bike commuters among large American cities. Compared to the national average of those who bike to work—about 0.5%—in Portland the average is 7.2%, or more than 17,000 workers.
Portland's love of bikes stretches beyond the city limits—all the way to the nation's largest urban preserve, Forest Park, for example, where single-track mountain bike trails help soothe the soul.
If you're looking for a hip, eco-friendly place to visit with plenty of eco-friendly transportation options, look no further than Portland, Oregon!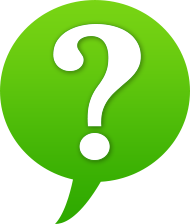 What do you think about this incredible eco-friendly city? Please feel free to share your thoughts in the comment section below—we'd love to hear from you!
Bicycle Friendly Community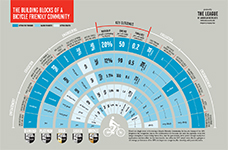 A Bicycle Friendly Community provides safe accommodations for bicyclers and encourages bicycling for transportation and recreation. The benefits?
Improved public health
Reduced traffic congestion
Improved air quality
Improved quality of life
Click to Enlarge. Graphic courtesy of The League of American Bicyclists.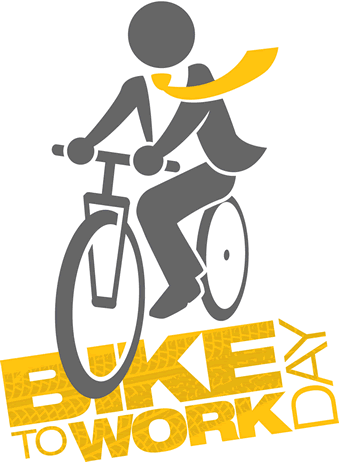 National Bike to Work Day is May 20!
In support of our mission of reducing chemicals and plastics in the environment, Norwex Movement wishes you a happy National Bike to Work Day!
Resources:
Green Uptown: Top Ten Greenest Cities in the World for 2015
Wired: Why Portland's Mass Transit Rocks
Portland Bureau of Transportation: Bicycle Master Plan
Puget Sound Transportation: Washington High Speed Rail Projects
Portland Bureau of Transportation: Bicycles in Portland Fact Sheet
Bike Portland: Portland inks $10 million "Biketown" deal with Nike as title sponsor of bike share system
Portland Bureau of Transportation: NIKE, Inc. to Sponsor Portland Bike Share
League of American Bicyclists: Bicycle Friendly America program
Forest Park Conservancy
Bicycling: America's Best Bike Cities
Bicycling: America's Top 50 Bike-Friendly Cities for 2012
CNN Money: Is your city the next Portlandia?