TK's Tips and How-Tos
What she used:
1 clear glass flower vase
Pea gravel from her backyard
A few colorful rocks from the yard
Some moss from the shady/wet spot in her yard
A small toy frog from her kids' junk box
Time spent: About an hour (with breaks)
Keeping It Simple
My main goal was to repurpose items I already had on hand. I didn't want to have to buy anything, although it was tempting to bring home cute, trendy, fairy garden items from the craft store. But ultimately, I found this project worked best with the simpler items I already had at home. I also thought about buying some new aquarium rocks, but my yard gravel worked great and had a nice range of natural colors. No need to spend a dime!
Landing on moss: I'm not the best at taking care of plants, so I searched out some low-maintenance options. Articles I read about low-maintenance terrariums suggested moss, as it doesn't require dirt or a lot of light or watering (aside from some spritzing to ensure that it stays moist and that the container has some water in the bottom for humidity). Plus, it will look great sitting on my desk at work or on the counter at home.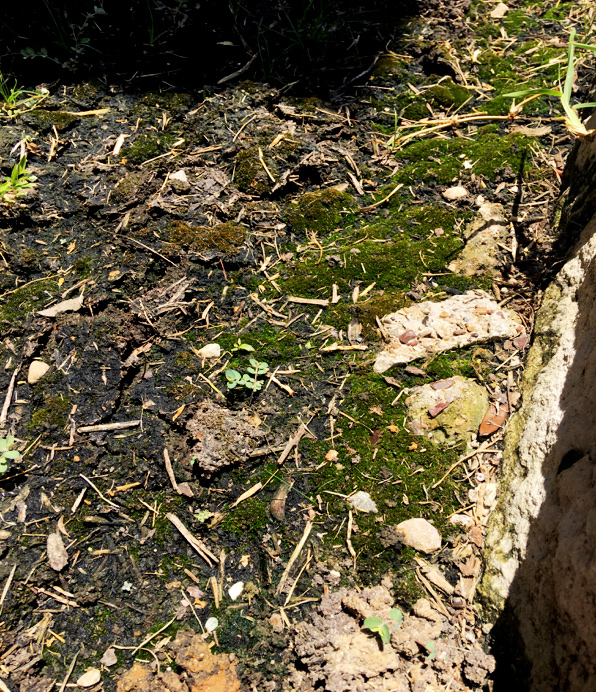 The harvesting process: If you don't have a mossy spot in your yard, you can buy some online or find some out in nature. To my surprise I had a good amount of moss in my backyard, so I used a fork and a butter knife to pry up two small pieces, moistened them with filtered water and set them aside until I was ready to place them in my container.
Container options: I have plenty of glass vases from flowers we've received in the past, so I just used one of those. You could also use one of those glass canisters meant to hold flour or sugar. Online, I even saw a terrarium made using a covered cake stand.
Tip: Try to choose a container that you can place your hand inside; otherwise it becomes challenging to place your pieces. If your container has a narrow opening like mine, you can use a spoon or some chopsticks to arrange your items. Also, if you have a container with a lid, that will cut back on how often you need to water.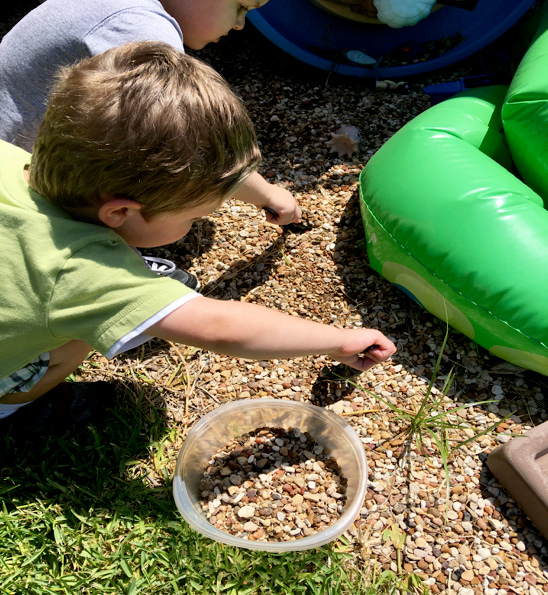 Sourcing and cleaning the pea gravel: Fortunately, my backyard landscaping uses pea gravel. I simply had my kids scoop some up and fill a bowl. (They love picking up rocks and getting dirty, so they were thrilled about this part!)
I then washed the gravel in a colander sitting inside a shallow bowl in my sink (so that smaller rocks wouldn't go down the drain) and rinsed them well. Since my gravel was from the back yard, it was important to remove all the grass clippings and dirt.
Putting it all together: After the gravel was cleaned, it was easy to place it in my container. I filled it about a third of the way full, mixing a few larger rocks within the gravel to take up space and create more visual interest. I then topped it off with two or three of the larger rocks and set the moss on them. I found a great spot for the frog, misted it all lightly, and I was done!
Upkeep: Since my container isn't covered, I'll probably need to mist at least once a week to keep the moss moist. From what I can tell by reading some of the online resources listed below, the best place for my moss terrarium will be in bright artificial light, but not direct sunlight.
That's it! Fun, cheap and easy!