Live Green T-Shirt: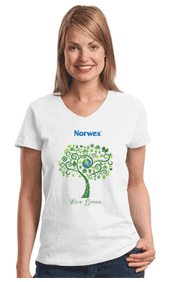 In celebration of Earth Day and our commitment to Live Green, we're offering this limited-edition Norwex "Live Green" t-shirt. A portion of the proceeds benefits the Norwex Charitable Initiative Fund, which supports worthy charities near and dear to the hearts of Norwex Consultants. Order yours today from www.NorwexNow.com.

A single story can inspire, teach and motivate millions across the globe.
April 7 – May 2, 2014, we invite our Consultants and customers to Share Your Story of how you are making a difference for the Earth.
How Do You Share Your Story?
Simply submit a photo of something in your home or office that you have made from "upcycled* materials for example, a bookcase made out of a pallet or a planter made out of milk jugs. We want to see how you are making the most out of items that would otherwise end up in the landfill. We will select 3 stories per week to highlight on this blog, and the lucky winners will be given a product package valued at over $100 USD retail.
Beginning April 7, submit your photo and story either here on www.NorwexRace.com/share-story or on our Facebook page at www.facebook.com/norwex . Keep an eye on the blog for more information.
* What is upcycling?
Upcycling is taking something that would normally be considered trash or disposable (or even recyclable) and transforming it into something useful or beautiful. The idea is to improve it in its original form (without any downgrading process) and make it into something more valuable.