Kids These Days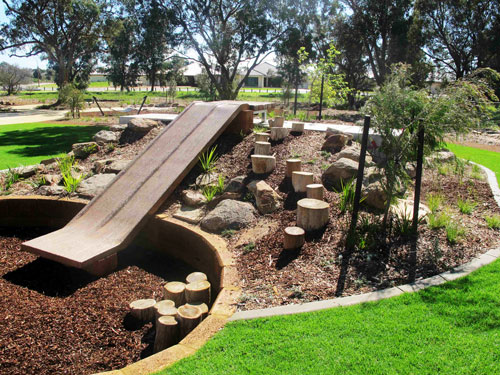 Many kids growing up today don't have access to the outdoor areas some of us once enjoyed. The era of exploring the local woods may be passing, but that doesn't mean kids have to stop building forts, climbing trees or participating in imaginative play. They can still have a nature-filled, playful childhood like we had.
That's because natural playscapes are gaining popularity! Traditional, industrial-style playground equipment like slides and swings is being replaced with options like anarchy zones, sandboxes and scaled trails that encourage more active playing outside.
Going Green at an Early Age
Natural playscapes are designed not only to foster active, imaginative play but to also give kids a real connection to nature. Research shows that exposing kids to nature is a crucial step in getting them to take an interest and care more about the environment.
Kids who have positive experiences with nature are much more likely as adults to get involved with environmental issues like water, air pollution, climate change and the overall condition of the planet.
Natural Playscapes Are Eco-Friendly
Instead of metal equipment that gets blistering hot when the sun shines or petroleum-based plastics that have been proven to emit trace amounts of toxins, natural playscapes are created with the best eco-friendly materials—trees, grass and plants.
Urban Planning Brings the Green
With this new understanding of the environmental and developmental impact on kids, city planners are designating parks in new places in order to provide essential play areas and to help kids experience a little bit of nature. Another bonus of this type of eco-friendly urban planning is that it could also generate a new field of green jobs.
Natural playscapes are good not only for kids' physical development but also to help shape the way they perceive the world around them as they grow into adults who value clean air, water and land.
Could there be a better reason to send them outside to play and get a little dirty?
A few elements used in natural playscapes:
Mud Play
Or as it is more commonly known—every mother's nightmare! But there is nothing kids love more than playing in the mud. All it takes is a cluster of old pots, canisters, assorted containers, a bucket of water and a little dirt. From making pies or even a cake, kids will enjoy stirring, baking and mixing in their own little mud kitchen.
Hill Slides
No manufactured slides here! Just kids playing on the grass slopes of a hill. Pretending to be a fallen tree log or charging up to chase a mythical creature, children work off excess energy and get lots of fresh air. Plus, play that includes running or rolling up and down a hill helps develop gross motor skills—especially when kids jump up and do it all again!
Clubhouses Rule
Tree house, lean-to fort or clubhouse—it doesn't matter. Kids will conceive a castle turret, frozen igloo or jungle lodge as the sanctuary for their next adventure. Clubhouses and forts give kids a sense of place, where they can explore their imaginations through both active and dramatic play. So be prepared to hear an embolden battle cry or maybe just a silly song emanate from your kids' space.
Sandboxes
Sand is back, baby! There was a time when sandboxes were removed from playgrounds, but now they are making a comeback in natural playscapes. Kids can make sand angels, sand castles or maybe just dig for buried treasures like coins and long-lost action figures. Kids' imaginations grow and bloom in sandy places.
Scaled Trails
Many park trails can be too long or too difficult for small kids to traverse, but these sized-down, or scaled, trails are just right. They can go bolting along the well-worn path and stop to investigate one of the Mother Nature's "pockets." Each "pocket" along the pathway invites kids to take a break for exploring, learning or just playing.
Anarchy Zones
Don't let the name scare you! In these play areas, kids are given an assortment of items like sticks, old tents, a mound of dirt, a bale of hay, a pile of smooth rocks and assorted pieces of wood. Designer Rusty Keeler, who coined the term "anarchy zones," wanted kids to be able to create whatever inspired them. Even though the chaotic play area may look like "an accident waiting to happen," kids do agree to some simple safety guidelines. So relax, and let your kids find out what they can build with their own little hands.
Sensory Gardens
Immerse kids in the scents, textures and colors of plants from the surrounding landscape. Along with specially selected plants, sensory gardens may include wind chimes, windsocks, flags and even artwork. Add a stream, waterfall or small pond for a fun water element. The two most popular sensory gardens are pathways and keyholes. Pathways are constructed of flat, stepping stones with gaps wide enough for in-between planting. Keyhole gardens provide an intimate space to rest and are usually wide enough for one or two kids to sit.