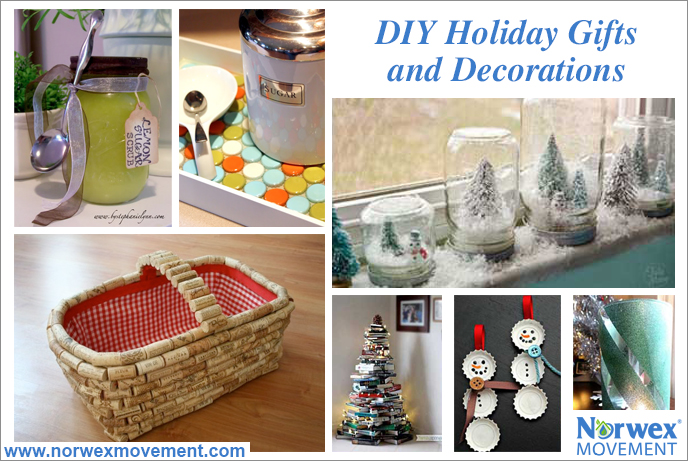 Making Gifts and Memories at the Same Time
As we head into the holiday season, I like the idea of making deliberate choices that mean I get to spend more quality time with my kids. For example, rather than rushing into the hustle and bustle of the mall scene, this year we're going to create our own gifts for friends and family (as much as possible anyway). Nothing says "I love you" like a homemade gift—and what a special way for the kids and me to make memories. And who knows? I might just save a little money, too!
So in going online to come up with some ideas for us to try, I was a bit overwhelmed at all the amazing and clever ways for repurposing everyday items and transforming them into gifts and decorations. Several of them were beyond my skill or comfort level, but many seemed easy enough for a busy mom on the go. Here are a few of my favorites:
Save those Cereal Boxes!
This 3-minute video walks you through how to use an empty cereal box, a hole-punch, some yarn, beads, glitter, garland and glue to create your own Christmas ornaments. It's easy, and kids will love it!

Into glitzy and glamorous?
You can use old holiday lights and a little glitter and glue to give your tree some new flair. Who knew?

More natural more your style?
• Here's a nice one for you. Etsy's 101 Green Handmade Gift Tutorials have something for everyone and many of these would make fun gifts any time of year, for just about any occasion. Check out #57!
• I found these holiday ideas especially appealing as the aim is to reduce waste and beautify the world at the same time.

Make It Personal
Here's a fun idea for creating personalized Christmas ornaments—plus it seems pretty easy!

Celebrating Hannukah?
Check out these beautiful ideas from Martha Stewart.

Fun with Salt Dough
These easy ideas from The Artful Parent would work for just about any age. If your child can hold a crayon, this may be just the thing for you. And they're guaranteed to melt the heart of anyone who receives one.
What are some of your favorite DIY gift ideas? We'd love to hear from you. Just leave a suggestion in the comment section below.
Resources:
YouTube: Glitzy Christmas Ornaments from a Cereal Box

Everything Etsy: 101 Green Handmade Gift Ideas
Never New Blog: Christmas Re-purposing Ideas
Better Homes & Gardens: Make a Name Ornament
Martha Stewart: Hanukkah Crafts
Mashable: 15 Simple DIY Holiday Gifts to Make With Your Kids
The Artful Parent: 11 Salt Dough Ornaments Kids Can Make
Give Presence NOT Presents Contest
The holiday season is about more than giving a gift/present bought from the store, it's about family, traditions, community, togetherness, memories, nostalgia, volunteerism, visiting with relatives, group activities, and thinking outside of self. Giving gifts is great, but giving time, giving your skills, giving your presence is even better.
Family gatherings have traditions that everyone looks forward to and much of it is about spending time together.
Contest Details:
Share your favorite memories or traditions from family holidays with a photo and a short description of the memory /tradition and why you chose it.
** The Contest Has Ended **