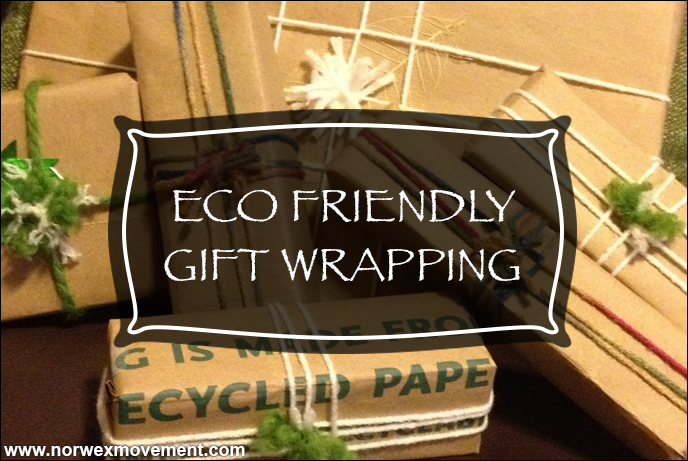 Eco Friendly Gift
Wrapping
In the spirit of the coming holidays, here are a few eco friendly ways you can wrap gifts and conserve resources too!
Use what you already have – Find inspiration by repurposing things you already have lying around – attractive shopping bags, gift boxes you have saved, newspaper comics, store ads, catalogs, magazine pages, old maps, old calendars.
Buy sensibly – Look for

paper

and bags that can eventually be recycled, fabric remnants from garage sales or thrift stores are inexpensive but great ways to wrap gifts.
Less is more – A pretty ribbon or bow, a handmade drawing, or a personal note, goes far in decorating an otherwise simple brown bag or box wrapper.
Get creative – Have your kids decorate the

paper wrapping

or label, or decorate it yourself. Reuse an old ribbon or bow from a prior gift. Buy rubber stamps and ink and go to town on a plain

paper

wrapper!
Use imaginative and unconventional wrappers:

Scarf, thin towel, shirt or blanket – Make the container part of the gift! Furoshiki is the ancient Japanese art of

wrapping

gifts in scarves, and the recipient gets a bonus gift too! The Norwex microfiber kitchen towel is the perfect gift wrapper for small items.
Bottles, jars – Ideal for homemade jam, or anything, really.
Decorative cardboard gift boxes – An easy and quick way to "wrap" a gift.
Tins – Thankfully, the art of printing pretty tins is not obsolete.
Reusable cloth bags – Easy and quick, and useful.
Brown

paper

bags – Amazing how far some tissue

paper

, ribbons, sparkles, and imagination can go in decorating an otherwise plain bag.
Functional container – Our Norwex reusable produce bags or dusting mitt is a great way to present any gift and is a gift in itself.
Resources:
Eco Friendly and Green Gift Wrapping Ideas For This Holiday Season
Furoshiki Wrapping – Pinterest