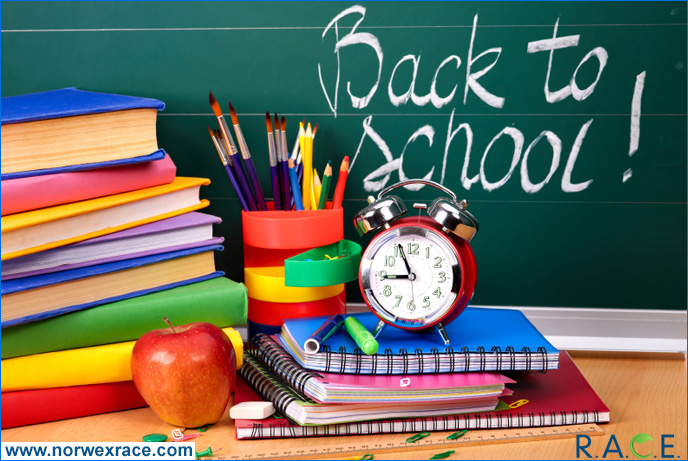 It's Back to School Time!
It's that time of year again for purchasing new books, clothing and educational supplies for your kids. But as your children return to school, it's important to think about not only the financial aspects of the back-to-school season, but also the environmental impact of the items you purchase as well as your kids' daily commute to school.
To help you keep the environment in mind while you prepare your children for another school year, check out the eco-friendly back-to-school tips below.
Purchase Organic Clothing
Non-organic cotton is grown using nearly 25% of the insecticides and 10% of the pesticides used throughout the world, making the production of cotton a major contributor to the pollution of our planet. Many other clothing materials also contain chemicals used during the industrial process, such as per- and poly-fluorinated chemicals (PFCs), nonylphenols and phthalates, which are known hormone disruptors.
To help keep these harmful chemicals away from your children, make sure to look for clothing that's made with fabrics that are organically grown, naturally dyed and produced with minimal environmental impact. Not only will your children have a new wardrobe full of natural clothing that won't expose them to dangerous chemicals, but you'll also be contributing to a cleaner, safer future for them to look forward to.
Purchase Green School Supplies
A report by the advocacy group Center for Health, Environment & Justice (CHEJ) found high levels of hormone-disrupting phthalates present in many children's school supplies. The study examined 20 children's vinyl backpacks, lunch boxes, binders and rainy day apparel, and discovered that 75% of the products contained high levels of phthalates, which are potentially harmful to the health of your children.
To help protect your children, avoid purchasing school supplies made with polyvinyl chloride (PVC) as phthalates are often used to make PVC plastic more pliable. If a product has the number "3" on it, or the letters "V" or "PVC" beneath it, the product is likely to contain phthalates.
Also look for recycled and renewable school supplies whenever possible. Try to find backpacks made with natural fibers like hemp or organic cotton, recycled notebooks and paper products made without bleach, and PVC- and BPA-free lunch boxes and beverage bottles to ensure that your children are safe from harmful chemicals, as you contribute to the sustainability of our planet.
Walk, Bike or Carpool
By the time you've driven your kids to school, picked them up and taken them to extracurricular activities (like soccer practice, the mall, etc.), you've logged some serious time in your car.
According to the Union of Concerned Scientists, "Collectively, cars and trucks account for nearly one-fifth of all U.S. emissions, emitting around 24 pounds of carbon dioxide and other global-warming gases for every gallon of gas."
To encourage physical activity as well as the opportunity to spend more time with your children, consider walking with them to school or letting them bike if their school is within a reasonable distance. You can also try scheduling carpools with nearby parents to help cut back on fuel expenses as well as the environmental impact of carbon emissions from your vehicle.
Can you think of any other eco-friendly back-to-school tips we didn't mention? Feel free to share your thoughts in the comment section below!
Resources:
Green Back-To-School Tips: Eco-Friendly Ways To Prepare For The Year
Green tips for going back to school!
Cars and Global Warming
Benefits of Organic Cotton Clothing
Healthy Home Tips: Tip 11 – EWG's Back-To-School Guide.