Being a Norwex Movement Fan of the Month shows you're interested in reducing chemicals and making a real impact by creating a more sustainable environment. It also brings some well-deserved recognition, a fun prize and 200 Eco Points!
Congrats to our latest Norwex Movement Fan of the Month, Amy Hepfner, for making a difference at NorwexMovement.com!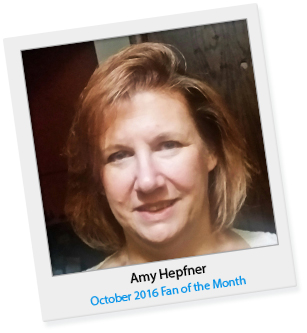 October 2016 Fan of the Month:
Amy Hepfner, MN
How She Won:
By being an active member of NorwexMovement.com.
Prize:
Surprise Movement Product
and Bonus Eco Points
What she said when she found out she'd won:
Thank you so much! I am blown away and so honored!
Q: What is your favorite Norwex Movement blog post so far?
A: It's hard to pick just one. . . . I love them all and I share a lot of the information and the website at my parties. Since I have to pick one, I would have to say it's the Rice Husk uses. That one really surprised me, and I love that it's a great renewable source for so many different things! I love the Norwex Cutting Board, and I hope to see more rice husk products from Norwex in the future.
Q: How did you learn about the Norwex Movement website?
A: I was a Customer for two years before I was talked into being a Consultant. I got the Ripple Effect newsletter [sent to opted-in Customers of Norwex] and saw the link for Amy's blog. I went on the web site and checked it out. I fell in love at first sight, and I'm on the site several times a month.
Amy, thanks for being an active member of NorwexMovement.com. We appreciate all that you and other Norwex Movement members are doing to help bring real solutions to our world!