Chemicals of Concern 2014: Clean Formula and Clean Conscience
For the 2014 Norwex North American Conference, I continued with my Chemicals of Concern series, addressing the environmental hazards of plastics, triclosan and SLS.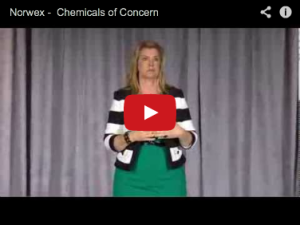 Some excerpts from this presentation.
Triclosan is an antibacterial and also an antifungal agent. It's found in more than 2000 hand and body soaps. The Food and Drug Administration has found evidence that people using anti bacterial products were not any healthier than the people not using them and the products with the triclosan were no more effective than just using plain old soap and water. The American Medical Association has recommended that triclosan not be used in the home at all as it may encourage bacterial resistance to antibiotics.
There are 245 million tons of plastic produced annually around the world. Studies have shown that 93% of the plastic waste we produce goes into the landfill, not into recycling.
A large percentage of our plastic waste ends up in our waterways. Today plastic particles have been found in every part of the ocean, from the Arctic to Antarctica to the deep sea floor. It's also been found in our marine animals. This waste forms in vast oval shaped patches that are formed by currents and winds and once they're trapped in these dead zones, which are called gyres, the plastic particles may persist literally for centuries. There are five massive gyres that are swimming around in the Indian, Atlantic and Pacific Oceans alone.
Scientists have found that Lake Erie has the highest concentration of plastic particles anywhere in the world. Of key concern were the small micro beads of plastic that they had found. These are the tiny colorful beads that you see in facial cleansers, body washes and even toothpaste. These little beads look like food to the fish.
See the video for lots of great facts and tips on how to make your home safer and your life healthier.