One of the great things about summer is spending time outside, and what nicer way than on your own green lawn. Here are some tips to get a green lawn that is chemical-free, sustainable and uses less resources!
Reduce Turf Area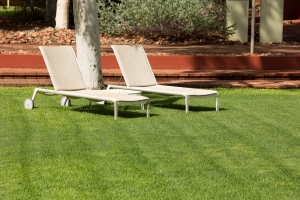 Reducing your turf area will cut down on the amount of water your lawn needs and the amount of energy you consume maintaining your lawn. Here are a few ways to reduce the amount of turf area and create a beautiful space.
Ground Covers – These are plants that spread across the ground but do not grow tall.
Xeriscaping – using native, drought tolerant plants
Native trees with mulch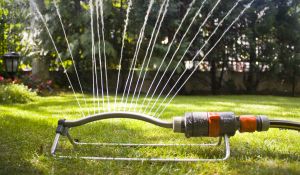 Water Smart
We all know lawns need water, but there are smart alternatives to setting the automatic sprinkler on a timer and forgetting about it. Here are a few ways to keep a healthy watered lawn and conserve water at the same time!
Water in the morning when temperatures are cooler.
Adjust your lawn mower up at least one notch. Taller grass holds moisture better.
Add a rain sensor or moisture sensor shutoff device to your automatic sprinkler system
Use a rain gauge, if you get 3/4 to 1 inch of rain in a week you can skip your next watering
Use more natural, organic based lawn fertilizers like Revive.
Here are a few resources to get you started!