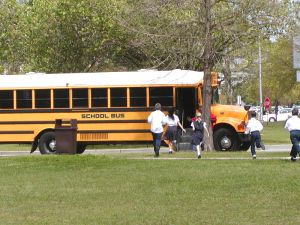 It's time for a new school year! Now that you went green by using your re-useable bags for all of your back to school shopping you may be thinking, "how can I stay green throughout the school year?" Over the next few weeks we will explore some great ideas for carrying your summer green into a new school year!. Here are a few tips to help you get back to school!
Walk or bike to school. Only 2 1/2% of kids who live close to school walk or bike. By not taking a car to school, just that 2 1/2% are saving nearly 100,000 gallons of gas…per day!
Take the bus. A typical bus can carry 54 kids. That is 54 less cars on the road every morning and afternoon!
Carpool. If you can't take the bus, and you live too far to walk this is a great alternative. For every passenger in a carpool you are reducing environmental impact by 50%!
For More information on staying green throughout the school year and in every other way, read The Green Book by Elizabeth Rogers & Thomas M. Kostigen – Three Rivers press