How to Host an Eco-Friendly New Year's Party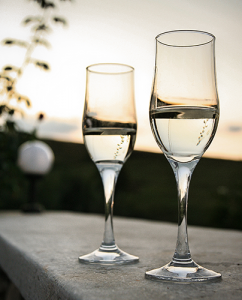 2013 is drawing to a close, and what better way to ring in 2014 than with an eco-friendly New Year's party? Start your next year of purposeful living with a celebration that lives up to the lifestyle you support. A New Year's party is just like any other party; taking steps to make it eco-friendly just makes sense, and it's not too difficult to do.
Skip the paper invitations. These days, it's easier and less wasteful to send online invitations, and if there's anyone on the guest list who isn't online, a phone call is a great option, too. If you've got your heart set on mailing out something tangible, consider sending some that are printed on recycled paper with wildflowers embedded in it; after the party, guests can plant the paper and grow flowers!
Choose the right venue. Host at home, to save on emissions and have better control over the environmental impact, or choose a venue committed to eco-friendly practices, so that you don't have to do as much planning. Whether you choose to do it yourself or leave it to professionals, make sure you're making an informed decision.
Make it more elegant, by using real plates and stemware. If you are hosting the party at home, treat your guests to plates and glasses, and perhaps cloth tablecloths and napkins. Not only will it add panache to your event, but it will save the landfill from unnecessary waste. If you aren't interested in doing all those dishes, use biodegradable or compostable dishes and utensils.
Create a menu that's eco-friendly. Choose produce that is in season, and buy locally whenever possible. Try to purchase food that's organically, sustainably grown, and make sure to include some vegetarian options; meatless dishes save on water and energy used to raise livestock. If you're serving soda, use aluminum cans, which are easier to recycle than plastic bottles.
Party to support a worthy cause. Rather than hand out favors, which often end up in the trash, why not show your commitment to a healthy Earth by making a donation to an environmental cause? You can let your guests know at the party, and bring attention to a worthy cause. Who knows? You may even inspire your guests to make donations of their own.
No matter what the occasion, and in your everyday life, living in an eco-friendly way is important, and that's something Norwex understands. Be sure to follow Norwex on Twitter and join our Facebook community for tips on how to improve the quality of your life. For more information on eco-friendly cleaning products, visit our website!