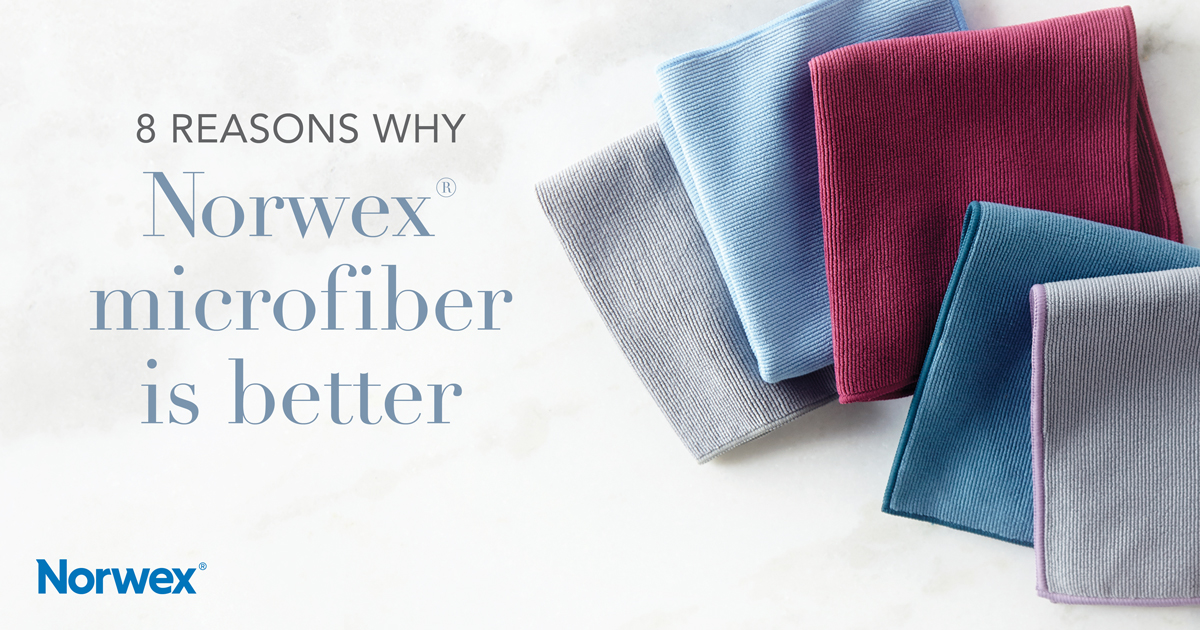 We get it. With budgets tighter than ever these days, spending money on a cleaning cloth may seem counterintuitive (at first). But look a little closer and you can't miss the wisdom of using high-quality microfiber to clean your home. Here are some of the top reasons why Norwex Microfiber is a good investment:
It's safer. Cleaning with Norwex Microfiber and water alone drastically reduces the need for cleaning supplies and harmful chemicals that can end up in our water supplies.
It works. Our cleaning cloths are proven to remove up to 99% of bacteria from a surface with water alone when following proper care and use instructions. There's simply no need for harmful chemicals.
It can save you money. It's estimated that just one EnviroCloth® and water alone can replace up to six common household cleaners, more than making up for the cost of the cloth AND reducing chemicals and expensive paper towels in your home.
It's guaranteed. Each Norwex Microfiber product comes with a two-year guarantee* so if you have a problem, we'll make it right.
We've got BacLock®**. Our BacLock antibacterial agent embedded in the cloth is designed to inhibit bacterial odor, mold and mildew growth. It keeps our cloths and towels fresher longer, so they don't need to be laundered as often, which reduces any shedding and saves both water and energy.
It's more sustainable. Did you know that about 13 billion pounds of paper towel waste is created in the U.S. alone every year? Choosing a reusable cloth over a single-use towel is just easier on the planet.
It's better than ever. As part of our ongoing innovations, several of our most popular microfiber products are now created using recycled microfiber yarn. This means anywhere from 2 to 5 plastic bottles are reused in each product.
It's proven. The STANDARD 100 by OEKO-TEX® certification on many of our products ensures they're free from legally forbidden chemicals as well as chemicals that are not yet assessed to be prohibited. They're also certified free from prohibited dyes and other additives not allowed by local and global authorities.
*Warranty applies only for normal household use and not for industrial/professional use.
**Our BacLock antibacterial agent is solely designed to inhibit odor, mold and mildew growth within the product.

Norwex Microfiber Beats the Alternatives
While it may be tempting to rely on traditional cleaning products, the costs can be high in terms of impact on the planet as well as your family's health. For example:
Cotton cloths/rags—Did you know that more chemical pesticides are used for traditionally grown cotton than any other crop? This pollutes not only the fibers themselves but also the groundwater runoff, streams, rivers, lakes and oceans that these chemicals wash into.
Paper towels—Because of our paper towel usage in North America, more than 51,000 trees are cut down daily. Around the world, used paper towels create 254 million tons of trash a year. Even worse, the pulp and paper industry is one of the largest industrial users of water, and typical paper towels are manufactured using chlorine, which is a known toxin.
Disinfectant wipes—Also known as wet wipes, they often contain chemicals that can lead to skin reactions, headaches, and eye and throat irritation. These single-use wipes are very slow to break down, and even "flushable" wipes can linger for years in sewers and oceans.
Chemical cleaners used with cotton and paper towels—Harmful chemicals in traditional cleaning products can impact health and pollute indoor and outdoor environments, while paper towels waste precious resources and overburden landfills.