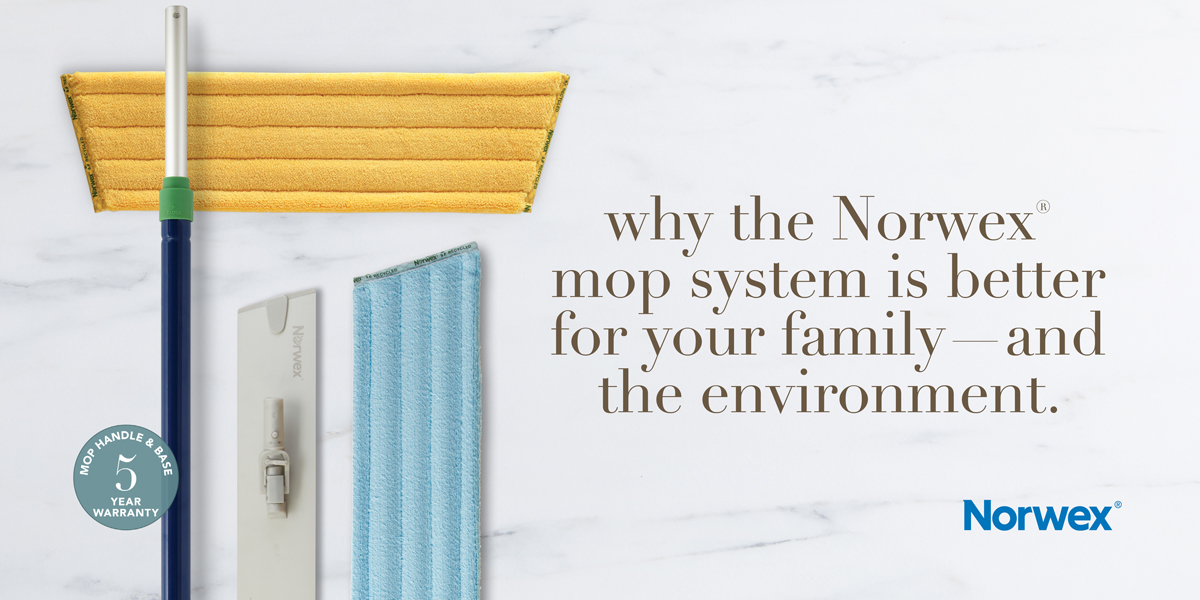 Dirt happens. So does dust, debris, grease and grime. Even with the best precautions, every home—big, small and everything in-between—needs regular cleaning. There's nothing like a good mopping to get your house in tip-top shape, fast.
The best way to do that is with a Norwex® Superior Mop System, which provides a smarter, safer and more sustainable clean. More than just one of our best-sellers, it mirrors our global Mission: Improving quality of life by radically reducing chemicals in our homes.
Safer Havens Start Here
The Norwex Superior Mop System makes chemical-free, more sustainable mopping as simple as 1-2-3:
Our Wet Mop Pad removes up to 99% of bacteria from a surface using water alone, when following proper care and use instructions. (Benefit: No need for harmful, chemical-packed cleaners.)
Used wet, pads with our exclusive BacLock® micro silver antibacterial agent self-cleanse within 24 hours. (Benefit: Pads stay fresher, longer—which means you have to launder less often, leaving less of a carbon footprint.)
Norwex Mop Pads are reusable—better for your pocketbook and the planet. (Benefit: You save money and keep single-use disposals out of landfills and waterways.)
The system includes all the basics for the quintessential green clean:
A Telescopic Mop Handle. Fully adjustable to fit your height.
Large Mop Base. Rubber edges protect walls and furniture.
Large Dry Superior Mop Pad. Made of 82% recycled microfiber yarn, it's statically charged to grab even the smallest particles of dirt, dust crumbs and more.
Large Wet Mop Pad. Made of 70% recycled microfiber yarn, it cleans floors and walls quickly and thoroughly.
The Timing Couldn't Be Better
Cooler temperatures mean more time indoors—not to mention the mess that goes with that. And with the holidays fast approaching, many of us will be getting our homes ready for guests and entertaining.
Here are six reasons why our eco-friendly Mop System truly lives up to its name, Superior.
The miracle of microfiber. We don't use the word "miracle" lightly. Along with all the previously mentioned benefits, microfiber is both durable and easy to care for. And because it absorbs up to 7 times its weight in water, you can clean an entire floor without having to stop to rinse your mop or replace a pad.
It saves time. No more lugging around heavy buckets or switching from cleaner to cleaner. Plus, no detergent residue means no need for multiple passes.
The handle is adjustable. It's ideal for hard-to-reach areas—high windows, walls, tight spaces and underneath furniture. An added bonus: Using a mop that's the correct length for your height can help prevent back pain.
It's customizable. For starters, you can choose your color. Then, you can supplement your cleaning arsenal with targeted, mix-and-match pads and accessories.
Tile Mop Pad. Nylon fibers remove dirt and debris from tile flooring.
Chenille Dry Mop Pad. Extra-long fibers make quick work of dust, dirt and other large particles.
Window Cloth Mop Pad. A must-have for bringing high windows to a sparkling and spotless shine.
Rubber Broom Attachment. On one side, the broom is electrostatically charged to remove pet hair, fuzz and more from carpeted surfaces. On the other, a rubber squeegee rounds up liquid messes and helps you quickly dry floors and windows.
EnviroWand®. This bendable tool comes with a two-sided microfiber sleeve—nubby chenille on one side, smooth cloth on the other—making it easy to clean those often-missed spots: under the fridge, high windowsills, ceiling fans, picture frames and more.
You can pick your size. Our Superior Mini Mop System features the same environmentally friendly cleaning power, only designed for smaller spaces like apartments, dorms and trailers.
It comes with a warranty. Norwex stands behind all its products, including our Mop Systems. Most components come with a two-year warranty, while the Telescopic Mop Handle and Large and Small Mop Bases now have a 5-year warranty.

Did you know? Mopping can actually be good for you.
In fact, these additional health benefits just may make you look forward to it.
It increases focus. A clean, uncluttered space can actually help your brain's ability to process information.
It provides a full-body workout if maintaining proper form and posture. You're stretching, toning and bending, benefitting arms, legs and core. Mopping also burns calories—up to 157, according to one source, the same as a half-hour of water aerobics.
It stimulates the production of feel-good endorphins. Like exercise, it brings about the same mood-boosting benefits.
It helps keep allergies at bay. Mopping helps prevent the common culprits from accumulating: allergens, dust and pet fur.
It offers tangible results. You get an end-product—a clean, healthy home—which provides an instant sense of accomplishment.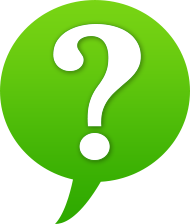 Have you made the switch from chemical solutions and/or single-use mop pads? Our readers would love to know your thoughts on cleaning more safely and effectively. Post a comment below!
Resources: