McDonald's Going Retro with Paper Straws
Remember those little paper straws we use to get with our milk in grade school? Or maybe you just remember your parents telling you how the delinquent students could turn those little paper straws into spitball cannons.
Either way, you may be seeing more paper straws when McDonald's starts phasing out plastic straws at its UK locations. (Hopefully, it won't be long before this change makes it across the pond.) In addition to switching to paper straws, McDonald's is also keeping them behind the counter and giving them out to customers only upon request.
This move brings McDonald's another step closer to its goal of all food packaging being recyclable. It has already eliminated polystyrene and uses recycled cardboard. Next on the list: cup lids.
The only thing left for us to move forward on are the lids that go on to our cups. Those are complicated, but we're working with our suppliers to find a solution to that," said Paul Pomroy, McDonald's Chief Executive, in an interview with Sky News. "We're really close, so we hope within the next year to be able to have a lid that's recyclable and serves the same purpose—for hot and cold drinks.
And McDonald's is not alone. Other restaurants are not only getting rid of straws, but also expanded polystyrene, or Styrofoam. Plus, many cities in the United States are even banning or limiting the use of plastic straws in restaurants.
With viable options like paper or bamboo straws, restaurants are finding ways to adapt to the loss of plastic straws. Just search the Internet and you can find several companies that make paper straws in a variety of colors. Besides, there is something fun about repurposing paper straws for a quick art project, party favor or maybe even a homemade pixie stick.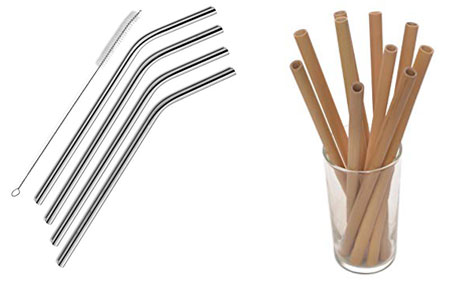 Not a fan of cute and colorful paper straws? No worries! Simply join me in turning down any straw the next time you order a drink. That one simple change may be the easiest step you can take to living more sustainably and reducing plastic pollution. Together, we can reduce mountains of plastic!