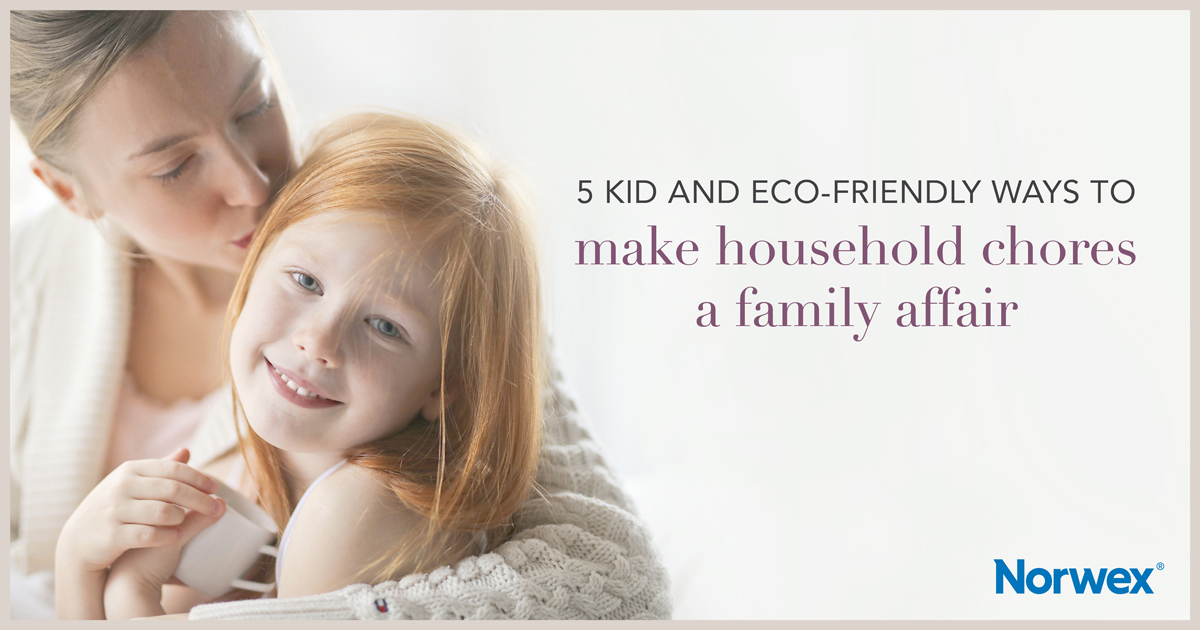 If you've got kids, you've got messes. And while keeping your house neat and tidy is often challenging, it's not impossible.
The key is helping children feel as though they're part of the solution rather than the problem. Beyond basic chores, like doing dishes and laundry, daily tasks can teach important life lessons such as responsibility, self-esteem and working as a team.
There's more. According to a Harvard Grant study, people who do more housework as children are actually happier later in life.
Yet along with the positives, there's one word of caution worth noting. Many conventional cleaning products are loaded with harmful toxins. At Norwex, our global Mission is improving quality of life by radically reducing chemicals in our homes. You can feel good knowing all of our products share a single goal: making your home and Mother Earth a safer, healthier place.
So go ahead. Enlist the kiddos. Studies show a strong work ethic is among the greatest predictors of success in adulthood. Daily chores are an excellent starting point, instilling positive behaviors that can last a lifetime.
Here are five ways to get the kids to help around the house—and with any luck, actually like it.
Up the fun factor.
Remember scavenger hunts? Use the same idea to get kids to collect stray items throughout the house. First, tell them to pick up everything they can wear on their body. Next, everything they can eat. And finally, anything they can play with. The child who returns the most items to their rightful spot wins.Crank up the music and turn cleanup time into a dance party. The challenge is finishing a task before the end of a favorite song. Similarly, tap into your kids' competitive spirit by setting a timer. If they don't have siblings to compete with, have them race against the clock.

Children also love to act out. Create a make-believe cleaning company, complete with pint-size hats, aprons, rubber gloves and cleaning tools. Parents get to play appreciative customers.

Or make decorating a personalized cleaning caddy an arts-and-crafts project. Kids can use it to store safe, sustainable supplies like our whimsical limited-edition hedgehog print Window Cloth. The magic of microfiber easily polishes glass and shiny surfaces sans chemicals or cleaners.

Skip the harsh chemicals.
Let the kids slip on a Dusting Mitt and have fun dusting shelves, tabletops and other surfaces. They'll enjoy learning how the soft microfiber attracts and holds dust and allergens like a magnet—no chemical-lade sprays needed. At the same time, the exclusive BacLock® technology in the mitt is designed to inhibit bacterial odor, mold and mildew growth within the cloth—so it's ready to use again and again, which means you won't have to launder it as often.
The earlier you start, the better
Little kids naturally want to do everything big people do—which is why toddlers love helping out. Start with simple tasks—picking up toys, pushing the buttons on the washing machine or sorting socks."When you teach a life skill, first you show them how to do it, then you do it with them, then they do it themselves," says Katherine Reynolds Lewis, a parent educator and author of "The Good News About Bad Behavior."

Make it a family effort. Work side-by-side. Kids of all ages are also more likely to feel ownership when it's a group effort and they're given a say in the planning process.

Be specific.
For younger children, "Clean up your room" can be overwhelming. You'll get much better results when you say something like, "Put all your blocks in their container." You can also play the rainbow game—choose a color, then ask kids to pick up and put away everything that contains that hue.Replace "everything is a mess" with smaller, doable tasks. Defining a time frame is also a good idea, especially for older children who may be concentrating on something else. A tangible deadline—like before their friends come over or by the end of weekend—leaves no question about expectations.

Simplified lists can make a huge difference. Keep them short and detailed, with each task manageable within a small amount of time. Also use visual aids. Have kids make labels or draw pictures of what goes inside each bin, box, drawer or container. These cues can help children understand larger, broader concepts by offering clear, easy-to-grasp outcomes.

Don't expect perfection.
Naturally, you want to provide instructions. But once you show kids how to perform a task, do your best to let go. Micro-managing can be de-motivating—not to mention discourage kiddos from trying something new.Always sandwich criticism between layers of praise. Start by telling kids what they did well, then position feedback as a suggestion, rather than a critique. Also avoid redoing their work. It can send a message that what they did wasn't good enough.
Finally, be supportive and encouraging, even for less-than-successful executions. The bottom line: Be at peace with imperfection.
Resources: