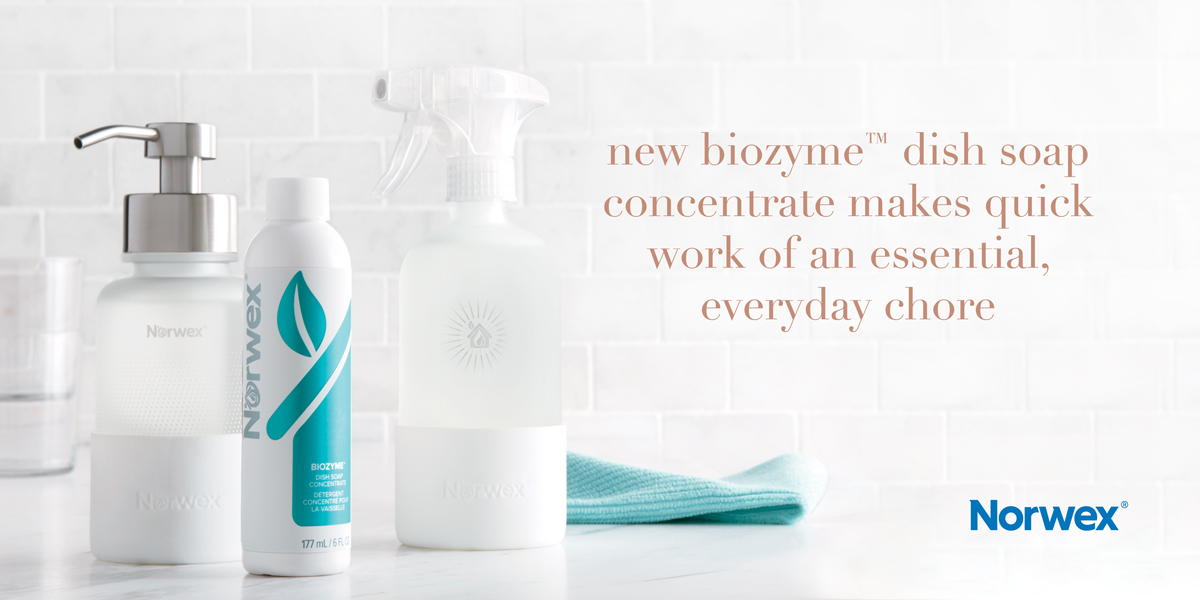 Attitude is everything—especially when it comes to routine chores like washing the dishes. It starts with a positive mindset (more on that later). But you also need the right products and tools in your arsenal to make everyday tasks easier, faster and, dare we say, more enjoyable.
New for 2022, Norwex's BioZyme Dish Soap Concentrate is the latest addition to our lineup of household must-haves. The name itself says it all. The "bio" is a nod to the product's 100% renewable, biological-based ingredients. As for the "zyme," it refers to the all-natural, enzyme-powered cleaning action that instantly goes to work to break down even the toughest soils and stains.
In fact, it's enzymes that replace the potentially harmful chemicals often found in conventional cleaners. For more than 27 years, it's been our Mission to offer innovative, sustainably minded solutions to radically reduce chemicals in our homes and our environment—the reason why so many Norwex products contain plant-derived and enzyme-based ingredients.
BioZyme Dish Soap Concentrate's proven-effective, earth-friendly formula includes water and only five other ingredients—three of which are certified organic.  
Equally important is what this concentrated dish soap doesn't contain: phthalates, chlorine bleach, phosphates, gluten, ammonia, SLS/SLES, nitrates, animal-derived ingredients, and synthetic dyes and fragrances. It's our promise to never include harmful chemicals that will wash down your drain and into our ecosystem.
But it's not just us touting BioZyme Dish Soap's formulation. This groundbreaking formulation also earned USDA's Certified Biobased Product Certification—a prestigious label given only to products containing a USDA-verified amount of renewable biological ingredients.
There are even more benefits—to the planet and your pocketbook. One six-ounce bottle of our ultra-concentrated dish soap yields three bottles of ready-to-use product, helping to reduce plastic waste. Save money by purchasing it in one of our convenient sets—Forever Refillable BioZyme Set with Sprayer or Forever Refillable BioZyme Set with Dispenser.
Spray. Pump. Wipe. It's just that easy. Apply BioZyme Dish Soap directly to hand-washable dishes, fine china, glassware, pots, pans and more. Or partner it with any of our hardworking, multitasking tools.
After washing, air or towel dry. For the former, our super-absorbent Dish Mat soaks up twice its weight in water. For the latter, Diamond Textured Kitchen Towels dry dishes quickly and thoroughly. Plus, both are made of recycled microfiber yarn and feature exclusive BacLock self-cleaning technology.*
And remember the aforementioned positive mindset? As author Peter Miller writes in his charming, highly acclaimed book How to Wash the Dishes: "There is an art to preparing and presenting a meal and there is an art to putting it all away."
The following tips will not only save time and effort—they may even help you find joy (seriously!) in the dish-washing process.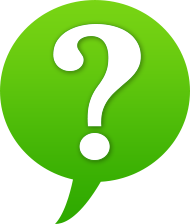 When you're done with the dishes, wipe down the sink. Let towels and sponges air dry, or launder if necessary. Tomorrow's rinse-and-repeat (pun intended) will be that much easier.
Do you have any tips that will help make dishwashing easier—or more fun? Please share them in the comments below.
*BacLock is our antibacterial agent for self-cleansing purposes only. It is solely designed to inhibit bacterial odor, mold and mildew growth within the product.
Resources: